Posted by Elena del Valle on August 25, 2011
Information provided by Event Partner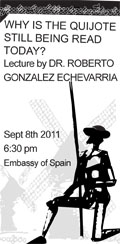 "Why is the Quijote Still Being Read Today?"
By Yale Prof. and National Humanities Medal Roberto González Echevarría
A keynote lecture followed by a reception complimentary admission
6:30 p.m. September 8, 2011
Embassy of Spain – 2375 Pennsylvania Ave NW. Washington DC 20037
Roberto González Echevarría, Yale Sterling Professor of Hispanic and Comparative Literature and 2011 National Humanities Medalist, will discuss
"Why is the Quijote Still Being Read Today?"
The fashion of equating the Quijote with Spain emerged during the Romantic period in the first half of the nineteenth century and peaked with the so-called Generation of '98, particularly with Unamuno. It extended throughout the twentieth century with authors such as Américo Castro and can be found in Franco regime propaganda which promoted the concept of "Hispanidad" as an essential component of its ideology.
Yet this conflation of text and country is as much a relic of the past, as the Quijote's notion of chivalry.
Although the Quijote is not read with the past's evangelical fervor in schools or universities in modern day Spain, the novel continues to be devoured by writers, intellectuals, and the general public the world over. Indeed, the democratic government of Spain has continued to endorse Cervantes' work, subsidizing an excellent edition of his novel, edited by Francisco Rico, which sells for a very modest price. In 2006 I bought a copy at the Santiago, Chile, airport for the equivalent of ten dollars, a real bargain for a hardcover book with an essay by Nobel Prize winner Mario Vargas Llosa.
Latin America is obsessed with the Quijote. Writers such as Jorge Borges, Alejo Carpentier, and Carlos Fuentes have written about it, and others, including Gabriel García Márquez have incorporated some of the Quijote's topics and literary devices into their work. The Penguin classics English translation for which I wrote the prologue has sold over 10,000 copies.
But why is a book published more than 400 years ago still read by writers and readers of all languages? Because Cervantes not only inaugurated the concept of the modern novel as we know it, but seems to have taken it to the limit its possibilities. Cervantes' technical discoveries are still valid for today's novelists–from the creation of characters by means of dialogue to the creation of characters, by other characters! Additionally, the general public continues to find in the Quijote attitudes and ideas that are still valid to daily life, and for the understanding of their relation with an often hostile world. My conclusion has found validation from Colombian Nobel Prize winner García Márquez who has declared "everything is already in Cervantes."
With Hamlet, Don Quijote is the quintessential modern hero, as visceral, flawed and relevant to today's turbulent times as he was at the dawn of the Siglo de Oro.
Biography
Roberto González Echevarría, Sterling Professor of Hispanic and Comparative Literature, was awarded a National Humanities Medal by President Barack Obama in a White House ceremony on March 2, 2011.
The Yale professor is among 10 distinguished individuals to receive the honor, which recognizes those "whose work has deepened the nation's understanding of the humanities, broadened our citizens' engagement with the humanities, or helped preserve and expand Americans' access to important resources in the humanities." Up to 12 medals can be awarded each year.
Among the other National Humanities Medal honorees novelists Joyce Carol Oates and Philip Roth. During the ceremony, Obama also honored this year's 10 recipients of the National Medal of Arts including actress Meryl Streep.
González Echevarría was honored in the East Room ceremony for his contributions to Spanish and Latin American literary criticism. He is considered one of the world's foremost experts on Spanish and Latin American literature. He is the author of Alejo Carpentier: The Pilgrim at Home, The Voice of the Masters: Writing and Authority in Modern Latin American Literature, Myth and Archive: A Theory of Latin American Narrative (which was awarded outstanding book prizes from the Modern Language Association and the Latin American Studies Association), Celestina's Brood: Continuities of the Baroque in Spanish and Latin American Literatures, and Crítica práctica, práctica crítica. He co-edited the three-volume Cambridge History of Latin American Literature and edited the Oxford Book of Latin American Short Stories. He also edited a CD-ROM on the life and work of Miguel de Cervantes, for which he received Choice magazine's Outstanding Academic Book Award for 1998.
A native of Cuba and former semi-professional baseball player, González Echevarría received widespread media attention for his 1999 book The Pride of Havana: A History of Cuban Baseball. His most recent book, Cuban Fiestas, is forthcoming from Yale University Press, and he is currently writing a history of modern Latin American literature for an Oxford University Press series. He is also a private pilot.
González Echevarría is a graduate of the University of South Florida. He earned his M.A. at the University of Indiana and his M.Phil. and Ph.D. degrees at Yale in 1968 and 1970, respectively. He was an assistant professor at Yale 1970-1971 before teaching for six years at Cornell University, returning to Yale in 1977. He became a full professor in 1980 and five years later was appointed the R. Selden Rose Professor of Spanish, the first endowed chair ever granted by Yale in the field of Spanish. He became the Bass Professor of Hispanic and Comparative Literatures in 1991 and was honored with the Sterling Professorship in 1995. He has served as chair of the Department of Spanish and Portuguese for more than 16 years, in different terms, and has also chaired Yale's Council on Latin American Studies.
In 2001, González Echevarría was named a William Clyde DeVane Professor, a major Yale University tribute. As such, he taught a semester-long undergraduate course, "Love and the Law in Cervantes," and offered public lectures on the topic. A book of the same title, based on those lectures, was published in 2005.
The literary scholar has been awarded a Guggenheim Fellowship and grants from the National Endowment for the Humanities, the Rockefeller Foundation and the Social Science Research Council. He has been an invited lecturer at universities in the United States, Europe and Latin America, and was the first Hispanist invited to teach in the School for Criticism and Theory. He has received honorary degrees from Colgate University and the University of South Florida, and was elected a member of the American Academy of Arts and Sciences in 1999.
Contact: info@lidereshispanos.org