Posted by Elena del Valle on June 9, 2011
Information provided by Event Partner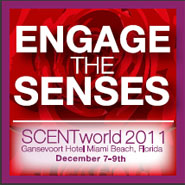 ScentWorld Expo 2011
December 7-9, 2011
Miami Beach, FL
http://www.scentworldexpo.com
ScentWorld is the largest scent marketing conference in the world, and will be attended by marketing professionals on the cutting edge as well as brand owners and scent marketing professionals from all over the world. Hispanics in particular are tuned into the power of scent, and this year's ScentWorld will be held December 7-9 at the beautiful Gansevoort Hotel, in South Florida, a vibrant Hispanic community and the gateway to Latin America.
Now, with so many mobile devices, social media, email and other stimulation, people are getting overloaded with information and particularly with marketing messages. In order to more effectively compete in a crowded marketplace, smart companies are going back to basics – engaging the five senses. Traditional advertising has focused on only sight and sound, appealing to consumers' logical thinking, but now companies are realizing that when they augment their existing marketing with an indirect approach through scent, it actually works better. That is why scent marketing is a growing industry, although few companies come out and talk about it, wanting to keep their secret competitive edge.
Among our speakers are world renowned researchers, advertising and branding executives and scent marketing professionals who will be presenting the very latest research, strategies and technology relating to scent and sensory marketing. No matter what your product or service, there is a creative way to use scent to boost sales, create an emotional bond with your customer, and strengthen your brand presence. Come to ScentWorld Expo and learn how to strategically use this very powerful sense on behalf of your company and your clients.

Special offer for HMPR subscribers! Attend ScentWorld Expo for only the members only price of $699, a discount of $300 if you sign up before September 1st. Register here http://www.scentworldexpo.com/register.html. See you in Miami Beach!