Posted by Elena del Valle on June 3, 2011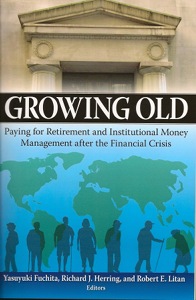 Growing Old book cover
In the United States we are not alone dealing with the financial issues affecting a large population heading to retirement on the heels of a recession. Some Asian countries like Japan have also pledged to look after their elderly and have large aging populations that will require financial payments in the coming years. The mushrooming problem, as older adults approach retirement age, is the gap that exists between the moneys due to be paid and the moneys available to make the payments when they become due. At the same time, the number of new workers generating revenue is decreasing, especially when compared to the number of workers retiring.
Yasuyuki Fuchita, a senior managing director of the Nomura Institute of Capital Markets Research in Tokyo, Japan, Richard J. Herring, professor of finance, University of Pennsylvania, and Robert E. Litan, senior fellow in Economic Studies at the Brookings Institution, believe the damage to the economy caused by the recent recession will be felt for years to come. One of the biggest challenges they foresee is the pension plan obligations of governments in the United States (population exceeding 300 million), Japan (population of 127 million), Korea (population of 48 million) and China (population of 1.3 billion) as these countries' populations age.
In Growing Old: Paying for Retirement and Institutional Money Management after the Financial Crisis (Brookings Institution Press Nomura Institute of Capital Markets Research, $26.95), a 151-page softcover book just published, they explore, along with academics and private sector expert contributors, what might happen in the future with pension plans and institutional money management in the United States and some countries in Asia. The chapters in the book, part of a yearly conference summary being published since 2004, are based on Growing Old: Paying for Retirement and Institutional Money Management after the Financial Crisis, last year's conference held October 2010 in Washington, D.C.
Contributors Akiko Nomura, Robert Novy-Marx and Joshua Rauh, Olivia S. Mitchell, Robert C. Pozen, Betsy Palmer, Natalie Shapiro outline their theories in five chapters: Introduction, Trends in Pension System Reform in Asia: Japan, Korea and China, The Crisis in Local Government Pensions in the United States, Managing Risks in Defined Contribution Plans: What Does the Future Hold? And Asset Allocation By Institutional Investors after the Recent Financial Crisis.
Fuchita coedited After the Crash and Prudent Lending Restored and Pooling Money. Herring is Jacob Safra Professor of International Banking. Litan is also vice president, research and policy, Kauffman Foundation and coeditor of Pooling Money. He is coauthor of Good Capitalism, Bad Capitalism and the Economics of Growth and Prosperity.
---
Click to buy Growing Old
---