Posted by Elena del Valle on April 21, 2011
Information provided by Event Partner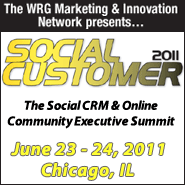 Social Customer 2011
The Social CRM & Online Community Executive Summit
June 23-24, 2011
Wyndham Blake Chicago, Chicago, IL
Hispanic MPR subscribers qualify for a special discount for Social Customer 2011.
As social media becomes a major facet of customer's lives, top brands across industries are realizing the growing need to listen to what their customers are saying on the social media channels, develop interactive online customer communities and meet their needs through smarter initiatives
This executive summit will help you:
ANTICIPATE customer concerns through smarter social media monitoring
ACCELERATE online community growth through better content strategies
ATTAIN internal organizational program support & involvement from the top down
ARTICULATE the best strategy for scaling programs to meet customer needs
ANALYZE program results to develop effective metrics for success measurement
ACHIEVE greater success in leveraging social media to drive customer loyalty & true brand engagement
Details and registration are at www.worldrg.com/socialcustomer. Hispanic MPR subscribers should enter the Promo Code "TPR673" for $200 off the registration rate. To register, please call 800-647-7600 or register online at www.worldrg.com/socialcustomer. For sponsorship opportunities contact Mark Coulter, 646-723-8049, mark.coulter@worldrg.com.