Posted by Elena del Valle on April 19, 2011
Information provided by Event Partner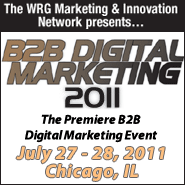 B2B Digital Marketing 2011
The Premiere B2B Digital Executive Marketing Event
July 27-28, 2011
Holiday Inn Chicago Mart Plaza, Chicago, IL
Hispanic MPR subscribers qualify for a special discount for B2B Digital Marketing 2011.
B2B Digital Marketing 2011 is the first event of it's kind to bring B2B corporations from across industries together to discuss the newest strategies, techniques, and tools to drive renewed growth and profitability through smart online search, social, and email techniques. As the use of new online marketing and mobile tools are becoming more and more prevalent in the B2B sector, corporate executives are feeling pressured, more than ever, to put together a coherent digital plan. With a focus on new technology and social channels, participants take part in a value-packed, interactive and inspiring event that will take the conversation to the next level and give actionable strategies to strengthen relationship and CAPTURE new business.
Experiences from leading B2B Corporations:
Aon
AT&T
Bloomberg
Google
IBM
FedEx
Xerox
…and many others
Details and registration are at http://worldrg.com/showConference.cfm?confCode=MW11010. Hispanic MPR subscribers should enter the Promo Code "UAZ296" for $200 off the registration rate. To register, please call 800-647-7600 or register online at http://worldrg.com/showConference.cfm?confCode=MW11010. For sponsorship opportunities contact Mark Coulter, 646-723-8049, mark.coulter@worldrg.com.