Posted by Elena del Valle on February 8, 2011
Information provided by our Event Partner.
Extra 10% Off for HispanicMPR Readers! Use code HMPR.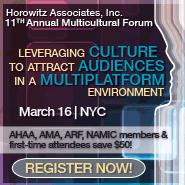 Horowitz Associates, Inc.'s 11th Annual Multicutural Media for Multicultural America Forum
March 16, 2011 | The Roosevelt Hotel, NYC
Leveraging Culture To Attract Audiences In A Competitive, Multiplatform Environment
Today's multiplatform, multicultural environment is a game-changer for the TV industry.
It used to be all about "share of viewing"… now, it's "share of culture."
Today's general audience is fragmented by multiple screens, influenced by social media, and in control of their consumer experience. This new audience is defined by its diversity, and is involved with both mainstream and culturally-relevant content.
Now in its 11th year, this annual Forum is THE venue for learning about trends that affect and influence your viewers and your audiences—America's multicultural consumers. Come to the Forum to get the latest research on the attitudes and behaviors of multicultural audiences especially as it applies to pay TV, broadband, and mobile platforms. This Forum has become the signature event where programmers, advertisers, agencies, and pay TV companies discuss strategies for capturing and retaining audiences and subscribers in multicultural America.
Speakers
Gloria Constanza, Partner, Chief Contact Strategist, d exposito & Partners
Glenn Enoch – Vice President, Integrated Media Research, ESPN
Saul Gitlin, EVP, Strategic Services, Kang & Lee
Joe Lawson, Director of Content Strategy & Acquisition, Verizon Fios Content Team
Carolina Padilla, Senior Director, DIRECTV Más & WorldDirect
Marla Skiko, Sr. VP, Director of Digital Innovation, Tapestry
Curtis Symonds, CEO, HBCU Network
…and more!
Register early and save—early bird discount $249 (through February 23)! Enter code HMPR online at www.multiculturalmediaforum.com/discount.php and receive and extra 10% off! For more information and sponsorship opportunities, please contact us at 914-834-5999 or adrianaw@horowitzassociates.com.