Posted by Elena del Valle on February 4, 2011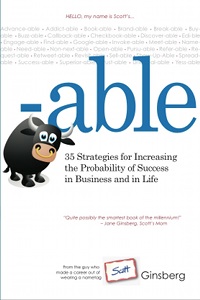 -able book cover
Photos: Scott Ginsberg
Scott Ginsberg, a resident of Saint Louis, Missouri, has been wearing a name tag for ten years in a row. It started out as as a way to teach people how to overcome their shyness and the awkwardness of making the first networking introduction. Along the way, he learned how to be approachable and how to make being approachable profitable.
In his most recent book, -able 35 Strategies for Increasing the Probability of Success in Business and in Life ($19.95), published last year he shares 35 strategies he thinks can help readers increase their probability of success in business and in life. The suggestions are described with sometimes odd seeming phrases such as How to be more findable than a smile at a nudist colony; How to be more referable than an attorney hoped up on sodium pentothal; and How to be more sellable than a case of Coors Light at a Colorado Rockies tailgate party.
Some of the concepts he discusses include the thought that ideas are free and execution is priceless. He believes more is better and advises that readers be "dangerously prolific" and "refuse to slow down long enough for anyone to catch up." Be fast, produce a lot, push many concepts to fruition and do it consistently, is his advice.

Author Scott Ginsberg
He also believes that not knowing how to do something should not stop readers. Better to move forward than to not move at all; he believes this is true even if you are not sure how or in what direction to move as long as you move. "Otherwise procrastination – the redneck second cousin of patience – will rob you of the motivation you need to carry in the cavalry charge. Finished is the new perfect," he says.
Ginsberg is the author of twelve books including Hello, my name is Scott, The Power of Approachability, How to be That Guy and Make a Name for Yourself.
---
Click to buy -Able
---