Posted by Elena del Valle on September 24, 2010

Social Media Marketing book cover
Photos: Que Publishing
Although a recent IBM survey of 1,000 channel partners (see IBM Offers Channel Partners Guidance in Social Media Marketing by Rick Whiting, CRN.com) indicates that 45 percent of respondents said they are trying their luck with social media 74 percent of respondents said they seek more education and better understanding of the many social media outlets and tools like RSS, wikis, Facebook and Twitter. At the same time they said they sought ways to measure results. That mirrors in some ways what Liana "Li" Evans, a social media executive, says.
Social media is not easy, quick and cheap, says Evans in her recently published book Social Media Marketing: Strategies for Engaging in Facebook, Twitter & Other Social Media (Que Publishing, $24.99). Evans, director, Social media for Serengeti Communications, explains that although adding content to social media is quick and free making the added content worthwhile for the audience requires much work.
Often overnight successes are by accident rather than the result of planned efforts. Those who believe launching a page on a popular site is all that is required in social media marketing will likely find disappointment, according to the author.
Social media is about gaining trust which takes time, she says in the first chapter. She goes on to explain that social media is about having conversations and sharing experiences with others with common interests; and that conversation about a company can take place with or without that company's participation. Successful marketing on social media, as any other type of marketing, requires that the executives understand the social media forum and develop a company strategy that includes an audience profile, goals and measurement, according to Evans.
Author Liana "Li" Evans
The 342-page softcover book is divided into five parts with several chapters each: The Basics of Social Media, It's About Conversation, Social Media from the Inside Out, It's Not About You, and How Social Media Fits into the Online Marketing Picture.
Since 1999 Evans, who has college degrees in public relations and information technology, has been active in social media and search marketing. Before working with Serengeti, she led search engine optimization efforts for an Internet Retailer 500 company. She also led the online efforts of the entertainment website of a Fortune 500 company.
---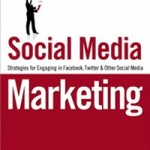 Click here to buy Social Media Marketing
---