Posted by Elena del Valle on July 9, 2010
Living Trusts for Everyone book cover
Photos: Allworth Press
Since Attorney Ronald Farrington Sharp switched his practice from family law to estate planning he became convinced that for most of his clients advance planning would help them save on after death fees. In legal terminology he believes a trust is better than a will and less expensive too. Many people are familiar with a will but what is a trust?
In his recently published book, Living Trusts for Everyone Why a Will is Not the Way to Avoid Probate, Protect Heirs and Settle Estates (Allworth Press, $14,95), he explains both concepts and the misconceptions involved in each of them. He believes wills benefit attorney and trusts benefit families. Unscrupulous attorneys drive the business of probate and wills in order to make a percent of the monies in the estate when their clients pass away, he says. Instead he proposes readers consider relying on trusts to avoid the probate process and to reduce estate taxes as well as for easier management of their assets for children and disabled heirs.
According to Farrington Rich clients do not have to be wealthy to benefit from a trust. In the 147-page softcover book, he shares ways for readers to avoid expensive legal fees, protect heirs, and settle estates. He discusses the different types of trusts, funding a trust, the role of trustees and guardians, selecting an attorney to draft the trust; what establishing a trust should cost, and who should establish a trust. he explains that there are dozens of trust types. Although he does not specifically focus on trusts from a business perspective many of the issues he raises about wills and trusts likely interest business people and business owners as they refer to the protection and inheritance of estates and assets.
The book is divided into twelve chapters: Trusts and Wills Defined; You Must Have a Trust If; A Comparison: Trusts and Wills; Trust Seminars: A Free Meal, But at What Cost; Watch Out for Attorneys; Trustees; Making Your Trust Work: Funding; You Do Not Need a Trust If; The Many Types of Trusts; Problems with Trusts; Guardians, Powers of Attorney and More; and Trustee Instructions for Death or Disability; and three appendices.
Author Ronald Farrington Sharp
Farrington Sharp is the founder of Ronald Farrington Sharp and Associates Law Firm established in 1975, and owner of the Michigan Law Clinic in Wayne, Michigan and the Great Lakes Legal Clinic in Southeastern Michigan. According to promotional materials, he has prepared over 3,000 trusts and estate plans. Prior to writing this book he authored Winning the Divorce War. He divides his time between Michigan and Florida.
---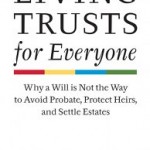 Click here to buy Living Trusts for Everyone
---