Posted by Elena del Valle on July 8, 2010
Information provided by our Event Partner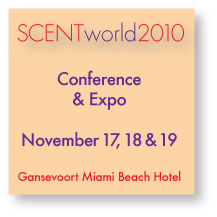 SCENTworld 2010 Conference & Expo
November 17-19, 2010
In it's third year, SCENTworld remains the only global conference for marketers, brand owners, solution providers, agencies and entrepreneurs that are interested in the power of scent, fragrances and aromas as they are used for non-traditional purposes.
Join us at the Gansevoort Miami Beach Hotel from November 17 – 19 when we discuss the impact that the application of contemporary fragrances, aromas and flavors has in the areas of:
branding
marketing & advertising
product design & packaging
art & design
hospitality
food & beverage
fashion
For the very first time we will enhance the expo area with a thought-stimulating salon of eight installations by contemporary art practitioners who integrate the sense of smell in their work.
We are delighted to have HPMR as a media partner and we offer the readers of HMPR a $100 discount off the $799 registration fee which includes the opening reception on November 17, two days of presentations on the 18th and 19th as well as the gala event on the night of November 18th.
For further details on the conference please visit the SCENTworld web site (www.scentworldexpo.com) or send an e-mail to info@scentworldexpo.com.