Posted by Elena del Valle on May 27, 2010
Information provided by our Event Partner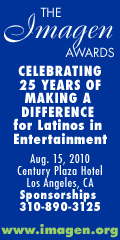 25th Annual Imagen Awards
Sunday, August 15th
Century Plaza Hotel in Century City, California
The Imagen (Spanish for "image') Foundation will be celebrating the 25th Anniversary of the prestigious Imagen Awards, to honor positive portrayals of Latinos and Latino culture in television and film, at a gala luncheon on Sunday, August 15th, at the Century Plaza Hotel in Century City, California.
The Imagen (pronounced ee-MAH-hen) Awards program was established in 1985 from a suggestion by veteran television producer Norman Lear ("All in the Family," "The Jeffersons") to encourage and recognize positive portrayals of Latinos in the media. Later, as The Imagen Foundation, it expanded its programs and initiatives to further its mission to serve as a bridge between the Latino community and the entertainment industry – providing access, education, and resources for Latinos in the industry as well as those seeking careers in entertainment.
Over the years, The Imagen Awards event has honored such prestigious artists as Cesar Romero, Rita Moreno, Ricardo Montalban, Martin Sheen, Placido Domingo, Penelope Cruz, Salma Hayek, Lalo Schifrin and Celia Cruz. Recent honorees include Kenny Ortega, America Ferrera, George Lopez, Nielsen Media Research and the Disney/ABC Television Group.
If you would like your company or brand to have visibility at this high-profile, star-studded event, various levels of sponsorship are available. Please contact Margie Hernandez at (310) 890-3125 or by email at margie.hernandez@yahoo.com .
Talent/press inquiries should be directed to Madeline Padilla at (818) 823-8781 or by email at mpadilla004@roadrunner.com .
More information on the awards event is available on the Imagen website www.imagen.org or by calling the Imagen office at (626) 376-9751. You can also follow Imagen on Twitter at twitter.com/imagenfound as well as on Facebook.