Posted by Elena del Valle on April 30, 2010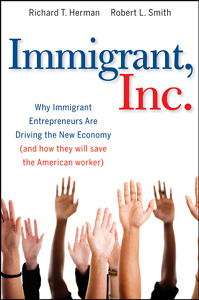 Immigrant, Inc. Why Immigrant Entrepreneurs Are Driving the New Economy
Photos: John Wiley & Sons, Inc.
Myriad uber famous companies were founded by immigrants to the United States. Examples include Google, Intel, Yahoo, Hotmail, YouTube, Sun Microsystems and ebay. In 2010, immigrants in the United States are almost twice as likely as non immigrants to establish a business. Immigrants are behind more than half the new high tech businesses in Silicon Valle; and they are more likely to earn an advanced degree, receive a patent or create an invention, according to the authors of a newly published book.
Richard T. Herman and Robert L. Smith point out that amidst all the controversy over undocumented immigrants many people overlook the critical contributions of legal immigrants to America's business environment and economy. The immigration and business law attorney and journalist specializing in immigration issues, both Ohio residents, authored Immigrant, Inc. Why Immigrant Entrepreneurs Are Driving the New Economy (and how they will save the American worker) (Wiley, $29.95), a 226-page hardcover book about the importance and accomplishments of immigrants published in 2010.
They believe some immigrants arrive primed with ambition, education, thrifty attitudes, and family loyalty to launch their entrepreneurial dreams and find success. In turn they create businesses and jobs that fuel our economy and help our country thrive at a noteworthy rate.
The authors dedicated 10 chapters to the topic, exploring the motivations and qualifications of immigrants and examining individual immigrant's stories. The chapters are: A Mighty New Idea; The Mounting Evidence; A Land of Opportunity, Still; Restless Dreamers; Earth's Best and Brightest; Cowboys of a New Frontier; Desperate Achievers: Prequel to Google; Importing Solutions; The Stimulus We Need; and Thinking Like an Immigrant.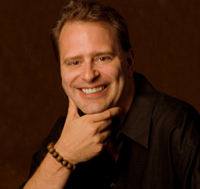 Co-author Richard T. Herman

Co-author Robert L. Smith
Herman is the founder of Richard T. Herman and Associates, an immigration and business law firm in Cleveland, Ohio. He is also the co-founder of a chapter of TiE, a global network of entrepreneurs. Smith writes about international culture and immigration for The Plain Dealer, one of the largest newspapers in Ohio.
---
Click here to buy Immigrant, Inc.
---