Posted by Elena del Valle on April 5, 2010

Author Shel Horowitz
Photo: Shel Horowitz
A podcast interview with Author Shel Horowitz is available in the Podcast Section of Hispanic Marketing & Public Relations, HispanicMPR.com. During the podcast, Shel discusses the issues relating to green marketing based on recently the published book Guerilla Marketing Goes Green, which he coauthored (see Authors share green marketing insights), with Elena del Valle, host of the HispanicMPR.com podcast.
Self described as an ethical and green marketing expert, book shepherd, writer, international speaker, consultant, community organizer, and frugalist Shel's green efforts began with a one-toddler action against smokers at his parents' party when he was three years old. Shel has been involved in environmental and social change movements his whole life.
In 1972, at age 15, he was involved in a community group that opposed a nuclear power plant proposed very near New York City (a proposal that the utility company quickly withdrew). A veteran of the 1977 Seabrook occupation, his first book, written when he was only 22, was about why nuclear power makes no sense. Shel is also the author of the e-book, Painless Green: 111 Tips to Help the Environment, Lower Your Carbon Footprint, Cut Your Budget, and Improve Your Quality of Life-With No Negative Impact on Your Lifestyle.
To listen to the interview, scroll down until you see "Podcast" on the right hand side, then select "HMPR Shel Horowitz " click on the play button below or download the MP3 file to your iPod or MP3 player to listen on the go, in your car or at home. To download it, click on the arrow of the recording you wish to copy and save it to disk. The podcast will remain listed in the April 2010 section of the podcast archive.

---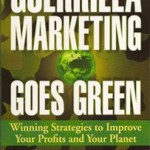 Click here to buy Guerrilla Marketing Goes Green
---