Posted by Elena del Valle on March 22, 2010

William Perez, Ph.D., Author, We Are Americans
Photo: William Perez, Ph.D.
A podcast interview with William Perez, Ph.D., author, We Are Americans Undocumented Students Pursuing the American Dream (see California professor shares findings on United States undocumented youth) is available in the Podcast Section of Hispanic Marketing & Public Relations, HispanicMPR.com. During the podcast, William discusses the issues relating to undocumented students in America based on his recently published book with Elena del Valle, host of the HispanicMPR.com podcast.
Born in San Salvador, El Salvador William came to the United States in the early nineteen eighties at the age of 10 to escape the civil war that began in 1979. He spent his remaining childhood in Pomona, California, attended Pomona College, and later earned a Ph.D. in child and adolescent development from Stanford University.
A professor at Claremont Graduate University, he is an emerging leader on research that examines the social and psychological development of immigrant and Latino students. He strives to brings depth of research experience to the complex problems of academic achievement and higher education access. His research has been funded by the Haynes and Fletcher Jones foundations. He currently lives in the Los Angeles neighborhood of Los Feliz where he enjoys hiking the trails in nearby Griffith Park. He competes in triathlons and is an avid fan of the local indie-rock scene.
To listen to the interview, scroll down until you see "Podcast" on the right hand side, then select "HMPR William Perez" click on the play button below or download the MP3 file to your iPod or MP3 player to listen on the go, in your car or at home. To download it, click on the arrow of the recording you wish to copy and save it to disk. The podcast will remain listed in the March 2010 section of the podcast archive.
---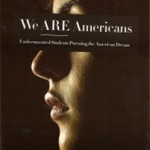 Click here to buy We Are Americans
---