Posted by Elena del Valle on January 7, 2010
Information provided by our Event Partner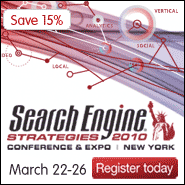 Search Engine Strategies Conference and Expo New York, NY – March 22-26, 2010
Good Search Engine Marketing (SEM) is the glue which bonds your content, brand, and audience together in the online world, and is the difference between your customers finding you or not.
Search Engine Strategies New York, has put together a comprehensive agenda for even the most novices of web developers and online marketers. Realizing the value of good content, how to identify useful keywords, and develop link building will set your website on the path to a number one rank on the leading search engines.
SES New York provides one of a kind access as the year's largest search industry conference.
* Networking with more than 5,000 marketers from over 40 countries across every industry.
* New session tracks tailored for marketers at every experience level.
* Unique intimate networking events to share and exchange new search techniques.
* New product demonstrations and technical insight from more than 100 industry leading vendors and service providers on our expo hall floor.
* Targeted training workshops and site clinics for your specific questions.
* Keynotes from the most exciting speakers in the sector, including Avinash Kaushik, Analytics Evangelist for Google and David Meerman Scott, Author, World Wide Rave.
Sessions include. For a complete agenda visit: http://www.searchenginestrategies.com/newyork/agenda.php?utm_source=hmpr
New Affiliate Opportunities & Strategies
Deep Dive Into Analytics
Search & the Integrated Marketing Mix
Paid Search 101
Social & the Marketing Mix
See more at www.SearchEngineStrategies.com/newyork.
HispanicMPR readers receive a 15% discount when using NY15MPR.