Posted by Elena del Valle on December 28, 2009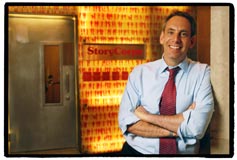 Dave Isay, founder and president, StoryCorps
Photos: Griot Initiative
Are you Hispanic and living in a city the United States or Puerto Rico? Are you comfortable with the idea of an audio recording? Is there a past experience you yearn to share with a friend and others you may never meet? If you answered yes to all these questions, you may want to participate in StoryCorps Historias, an ongoing national program for Latinos developed by Dave Isay of StoryCorps and funded by the Corporation for Public Broadcasting (CPB). The program, launched in New York City September 2009, will be in Miami, Florida January 7-30, 2010.
Part of the program's outreach is done by partnering with local radio stations, cultural institutions and community-based organizations to collect recordings from 21 locations. In Miami, StoryCorps is partnering with WDNA-FM 88.9 Public Radio, which plans to air some of the local stories. Selected interviews will also air on Latino USA, an English-language news program broadcast in 31 states and NPR's Morning Edition.
Maggie Pelleyá, general manager of WDNA-FM 88.9 Public Radio
"Miami is the gateway to the Caribbean as well as Central and South America, and everyone has a story of how they arrived here, how they work, how they raise their families, and how they consider Miami their home," said Maggie Pelleyá, general manager of WDNA-FM 88.9 Public Radio. "WDNA is proud to host this opportunity to share the stories of many who consider Miami as the Magic City."
According to a StoryCorps representative, participants are free to discuss anything they like, in English or Spanish, such as a favorite memory or important life questions. The StoryCorps Historias website lists some ideas and suggested questions for those seeking inspiration.
"StoryCorps reminds us of our shared humanity; by listening to our stories, we walk in the shoes of others and recognize how much we have in common," said Isay, founder and president, StoryCorps in a press release about the upcoming Miami program. "We are proud to work with WDNA to help create a growing portrait of our nation's fastest-growing minority group by preserving the stories of Latinos throughout the country."
As part of the process, each participant, asked to donate $25, receives a broadcast quality copy of his or her recording. The fee will be waived for those who cannot afford to pay. A facilitator assists participants in the recording session. There are two bilingual facilitators in the program.
At the end the organization plans to select 1,000 recordings to collate together. Those recordings selected for broadcast and archiving in the Library of Congress will be edited and shortened with the participants permission. Also involved in the national initiative are Latino Public Radio Consortium, Latino USA and the U.S. Latino and Latina World War II Oral History Project.


A StoryCorps MobileBooth
Residents of San Francisco, California; Eastern Puerto Rico; Taos, New Mexico; Alamosa, Colorado; Austin and Houston, Texas; and Boston, Massachussets already participated in the program this year. In addition to Miami, the Mobile Booth, where the recordings take place, will visit: Yuma and Phoenix, Arizona January 4, 2010; San Juan, Puerto Rico January 20, 2010; Los Angeles, February 8, 2010, and Fresno, March 22, 2010 in California; as well as Washington, DC April 2010; Albuquerque, New Mexico May 17, 2010; Chicago, Illinois May 17, 2010; Brownsville, May, 2010, and San Antonio, June, 2010, in Texas; San Diego, California July, 2010 and Granger, Washington at a date to be determined.
StoryCorps plans to collect 120 stories in Miami. Its MobileBooth will be parked at the Wolfson Campus of Miami Dade County College for four weeks. Details can be found on the organization's website, StoryCorps.org.
In addition to Historias, StoryCorps has three other initiatives: Griot, designed to preserve the voices, experiences, and life stories of African Americans; Memory Loss Initiative for people affected by memory loss; and 9/11 Initiative to honor and remember the stories of survivors, rescue workers, and others personally affected by September 11.
StoryCorps is an independent non-profit whose mission is to "honor and celebrate one another's lives through listening." According to promotional materials, StoryCorps has one of the largest archives of American voices ever created. Each week, StoryCorps broadcasts air on NPR's Morning Edition. Other funders include The Atlantic Philanthropies, The Ford Foundation, The Annenberg Foundation, and Joe and Carol Reich.