Posted by Elena del Valle on December 18, 2009
A scene in Falling Awake
Photos, video: Mega Films, IFC Entertainment
IFC Entertainment and Spanish Broadcasting System (SBS) are partnering to promote Falling Awake, a new film due to be released January 2010. The marketing partnership will be between IFC Film, part of IFC Entertaiment, and Mega Films, the film division of SBS. Scroll down to watch a 60-second video clip of Falling Awake.
IFC Films is scheduled to release the new movie in late January in New York and Miami with a simultaneous release nationwide on demand while SBS is scheduled to promote the film with a multi-million dollar advertising and promotion campaign on the company's television, radio and online outlets.
Jonathan Sehring, president, IFC Entertainment
"SBS and IFC together are a potent team and are ideal partners for the release of Falling Awake," said Jonathan Sehring, president of IFC Entertainment, in a press release. "Our combined areas of expertise should ensure this terrific film finds the widest possible audience."
Falling Awake, Mega Films' first English-language production, stars Jenna Dewan (Step Up), Nicholas Gonzalez (Melrose Place) and Andrew Cisneros. The film was directed by Agustin (Gabriel, El Vacilon) and produced by Andrew Adelson. The executive producers were Steven Molasky, Dean Valentine, Brad Friedmutter and Raul Alarcon, (president, chief executive officer and chairman of SBS).
According to promotional materials, the movie sets out to illustrate the story of Jay (Andrew Cisneros), a young Latino musician in the Bronx who struggles to find his identity in a home crowded with family members and a neighborhood of loyal friends and dangerous enemies. His determination to find himself grows after he meets a beautiful Brooklynite, Alessandra (Jenna Dewan).
At the same time he is dealing with life issues like the loyalty he feels to his friends, his brother (Nicholas Gonzalez), who recently returned home from the war, and the expectations of his frustrated, angry father (Nestor Serrano). As Jay fights to break free of the cycles of anger and violence that grip his life, he finds that only love can give him a chance at happiness, and comes to a new understanding that helps him take the long, uncertain leap into his future.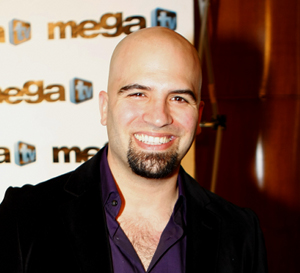 Agustin, director, Falling Awake
"It is fantastic to have the opportunity to work with a company like IFC Films that understands the strength and reach of SBS and Mega Films within the 40 million strong U.S. Hispanic market. I think the coming together of our audiences is precisely what Falling Awake is about," said Agustin.
Spanish Broadcasting System (SBS), is one of the largest publicly traded Hispanic-controlled media and entertainment companies in the United States. The company owns or operates 21 radio stations, Mega TV, and LaMusica.com.
IFC Entertainment consists of multiple brands devoted to bringing specialty films to IFC Films, IFC Festival Direct, IFC Productions, and the IFC Center. IFC Films is a distributor of independent films. Its day and date distribution model, IFC In Theaters, releases independent films simultaneously in theaters, on cable's On Demand platform and through Pay-Per-View. IFC Entertainment's companies are subsidiaries of Rainbow Media Holdings LLC which in turn is a subsidiary of Cablevision Systems Corporation.