Posted by Elena del Valle on December 14, 2009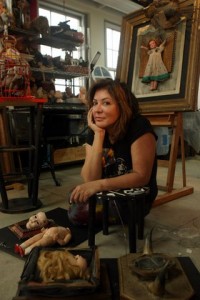 Photos: Cecilia Moreno Yaghoubi
A podcast interview with Artist Cecilia Moreno Yaghoubi is available in the Podcast Section of Hispanic Marketing & Public Relations, HispanicMPR.com. During the podcast, she discusses her strategy in making it in the arts world as well as marketing tactics, initiatives and how to get visibility as an artist with Elena del Valle, host of the HispanicMPR.com podcast.
Social and political imagery, religious iconography, found objects, and mixed media all combine in Cecilia's work of mix media assemblages with found objects. A Colombian-born artist Cecilia emigrated at a young age with her family to the United States. In time, she earned her Bachelor's in Business Administration in marketing and began a career in property management. Working and living in the suburbs for the greater part of her life, she decided a little over six years ago to focus on her artwork, create a studio and pursue this venture full-time.
Through a combination of influences, Cecilia's art has traveled from the lush and beautiful, yet safe and mainstream landscapes of her homeland to the more challenging, riskier mixed media work. Featuring political and social imagery, religious iconography and found objects such as dolls, much of her current work is assembled from flea markets, thrift shops and recycled materials like wood and fabric.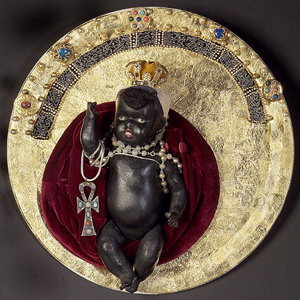 Virgin Mary, Assemblage Found Objects (dimensions 20 X 20 X 8 inches)
In 2005, Cecilia premiered her paintings at "Origenes Latinos/Latin roots" gallery in Chelsea, New York. She has exhibited in New York and Connecticut at the Silvermine Art Center, Westchester Art Workshop, Cork Gallery at Lincoln Center, the National Academy of Art Museum and at the Colombian Consulate of New York. In Miami, her work has been featured at Opera Gallery and had a solo exhibit, "Girl from Cali," at the Colombian Consulate in Coral Gables in October 2009. In December 2009, she will be one of 800 artists from around the world invited to exhibit her artwork at the Biennale in Florence, Italy.
To listen to the interview, scroll down until you see "Podcast" on the right hand side, then select "HMPR Cecilia Moreno Yaghoubi" click on the play button below or download the MP3 file to your iPod or MP3 player to listen on the go, in your car or at home. To download it, click on the arrow of the recording you wish to copy and save it to disk. The podcast will remain listed in the December 2009 section of the podcast archive.