Posted by Elena del Valle on October 9, 2009
Photos: Quill Driver Books
In Secrets of Social Media Marketing How to Use Online Conversations and Customer Communities to Turbo-Charge Your Business! (Quill Driver Books, $15.95) Paul Gillin, a journalist specializing in technology, sets his sights on how readers can leverage social media to a business advantage. He believes that embracing change is essential for business success in today's fast paced environment.
He argues in his book that the marketing changes taking place now are the best ones the profession has faced; and that those who take advantage of them will thrive while those who ignore them will be left behind and their past skills will become irrelevant.
The 290-page softcover book, published this year, is divided into 16 chapters. He begins by addressing why social media is worth dedicating time to and what tools are appropriate for the objective sought, focusing on the goal and not just joining for the sake of participating in a popular trend.
He goes on to discuss the importance of monitoring online conversations, identifying online influencers and how to connect with them, blogging and podcasting, social networks big and small, listening to online conversations to build content, engage customers and create trust; and developing content, storytelling, interactive devices, self promotion, measurement, and possible future trends.
Prior to working as a social media consultant Gillin covered computer industry issues as a journalist for fifteen years. He was editor-in-chief of TechTarget and held the same title at Computerworld. He wrote The New Influencers (see Consultant discusses role of social media leaders)
---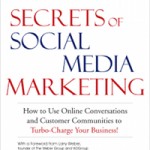 Click here to buy Secrets of Social Media Marketing
---