Posted by Elena del Valle on August 28, 2009
Photos: University of Georgia Press
In the past decade the Latino population in the South has doubled bringing with it social, economic and cultural changes. In 2004, a conference on Mexican immigration to the southern part of the United States was held in Atlanta, Georgia with the help of the Consulate of Mexico in Atlanta and four universities. The edited conference proceedings were published initially by the Institute of Mexico in Atlanta. The editors, Elaine Lacy and Mary E. Odem, expanded the topic to encompass Latin American immigration to the United States South and this year published a collection of articles by 10 contributors in a book titled Latino Immigrants and the Transformation of the U.S. South (University of Georgia Press, $24.95).
In the book, ten academics, five women and five men from the United States and Mexico, dedicated 175 pages to an examination of issues relating to Latinos and the South. Latino Immigrants and the Transformation of the U.S. South is divided into nine chapters: Cultural Enclaves and Transnational Ties: Mexican Immigration and Settlement in South Carolina by Lacy; New Scenarios of Migration: Social Vulnerability of Undocumented Veracruzanos in the Southern United States by Rosío Córdova Plaza; The Dalton Story: Mexican Immigration and Social Transformation in the Carpet Capital of the World by Víctor Zúñiga and Rubén Hernández León; Globalization and Latin American Immigration in Alabama by Raymond A. Mohl; Hispanic New Comers to North Carolina: Demographic Characteristics and Economic Impact by James H. Johnson Jr. and John D. Kasarda; Race, Migration and Labor Control: Neoliberal Challenges to Organizing Mississippi's Poultry Workers by Angela C. Stuesse; Latino Immigrants and the Politics of Space in Atlanta by Odem; New Americans in a New South City? Immigrants and Refugee Politics in Nashville, Tennessee by Jamie Winders; and Popular Attitudes and Public Policies: Southern Responses to Latino Immigration by Lacy and Odem.
Lacy is professor of history and assistant to the executive vice chancellor at the University of South Carolina, Aiken. She has published several articles on Latino immigration to the United States and Mexican cultural politics. Odem is associate professor  of history and women's studies at Emory University and the author of a number of publications about women, gender, immigration and ethnicity in the history of the United States.
---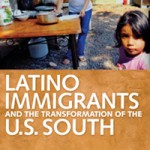 Click here to buy Latino Immigrants and the Transformation of the U.S. South
---