Posted by Elena del Valle on March 2, 2009
Mexican Institute of Sound Soy Sauce album cover
Photos, song: Nacional Records, Napoleon Habeica
Mexican Institute of Sound (M.I.S.) will release Soy Sauce (Nacional Records), a new album described in promotional materials as traversing "Lara's wild musical imagination with a witty sense of humor for good effect," April 7. Scroll down to listen to "Alcotel" from the Mexican Institute of Sound Soy Sauce album.
Camilo Lara, known as the Mexican Institute of Sound on stage, started his artistic career creating holiday mixes for friends. Later his friends convinced him to take his songs into the studio. Four years later, Lara is launching his third album.
Soy Sauce features almost entirely original songs recorded with a live band and vocals. Holger Beier, the man behind German act Le Hammond Inferno, is the producer for the album. Beier's contribution is most evident on a song like "Yo Digo Baila." Lara also invited some of his musician friends to perform on the album. He  recruited close friend and Tacuba's lead guitarist Joselo Rangel to play on the tracks "Hiedra Venenosa" and "Alocatel." From there, Ad Rock, of hip hop band the Beastie Boys, decided he wanted to remix the track "Alocatel."
Mexican Institute of Sound's Camilo Lara
"He helped give the songs structure and brought new flavors for my ideas," said Lara of Holger Beier influence on his new album. "This is my most to the point dance track. I have to thank Holger for pushing me to being open minded to these sorts of ideas. What I like is that it has the sounds of cumbia but in a very radical style. When I was working on Soy Sauce, I was obsessed with Café Tacuba's classic album Re. I wanted to record an album like that, going from polka to punk in one second. That's why I had found it so fascinating. I wanted my album to really cover the entire scope of my musical tastes.
I've been friends with Mike D of the Beastie Boys for a long time. So one night after one of their shows in Mexico City, I had the group over to my place for dinner. Mike introduced me to Ad Rock and I gave him some of my music from the new album that I had been working on. Months down the line, he got back in touch, saying that he wanted to collaborate."
Lara, the one-man musician behind Mexican Institute of Sound, is from Mexico City. He develops his music  while holding down a day job. He creates his music with the help of his computer, his imagination, and his collection of vinyl. Click on the play button to listen to "Alcotel" from the Soy Sauce album
---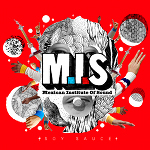 Click here to buy Soy Sauce
---