Posted by Elena del Valle on January 9, 2009
I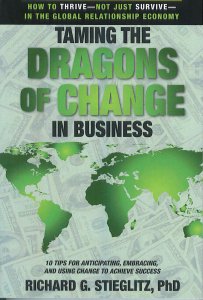 Dragons of Change in Business book cover
In Taming the Dragons of Change in Business 10 Tips for Anticipating, Embracing and Using Change to Achieve Success (Acuity Publishing, $19.95), Richard G. Stieglitz, Ph.D. explores ways for readers to take advantage of current market, employment, organizational and business shifts. The Maryland resident believes that individuals and companies who are prepared and ready may be able to take advantage of the opportunities that develop in the rapidly changing environment.
Stieglitz, who believes the most notable change is the increased importance of relationships in the business environment, addressed the book to leaders who want to transform their organizations. He divided the book into three sections: Beliefs The Foundation for Success; Relationships Building Blocks of Success; and Actions Only Actions Change Reality. He shared three tips in each of the first two and four tips in the third one.
The three tips in the first section are Abundance Be Abundant in Your Attitude; Opportunity Answer When It Knocks; and Investments Pay It Forward. The tips for the second section are: Communications Get Your Message Across Clearly; Diversity Embrace Diversity to Expand Creativity; and Collaboration Collaborate, Collaborate, Collaborate. The tips for the final section are: Purpose Use Purpose to Set Your Direction; Planning Plan to Achieve Your Goals; Innovation Reach the Top Through Innovation; and Execution Execute to Produce Results.
He dedicated the final eight pages of the book to what he considers are ten future changes: An increase in independent workers; increased customization; more direct communications thanks to technological advances; pressure for high skilled workers to adapt to business demands; heightened importance of creativity; more social change than ever; shifting world market that will drive economic relationships; closer relationships resulting from global markets; a shrinking business environment pressures leaders to sustain healthy relationships; and greater uncertainty.
A nuclear engineer by training, Stieglitz has a 35-year career track. He served 10 years in the United States Navy and then pursued a career in the private sector where he worked for software and aerospace firms. He also authored Taming the Dragons of Change 10 Tips for Achieving Happiness and Success When Everything Around You is Changing.
---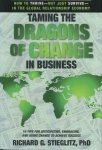 Click here to buy Taming the Dragons of Change In Business
---