Posted by Elena del Valle on December 15, 2008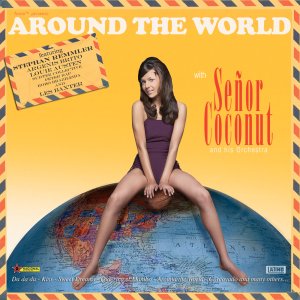 Around the World, Señor Coconut's new album
Photos, song: Nacional Records
Nacional Records released the latest Señor Coconut album Around the World along with a reissue of El Baile Alemán November 18. Señor Coconut, a German producer and DJ based in Santiago, Chile also known as Atom and Uwe Schmidt, produces Latin electronic music. Scroll down to listen to Corcovado from the Around the World album.
His first album, El Baile Alemán, was a Latin tribute to Kraftwerk, an electronica producer. The album was released for the first time at digital outlets and the physical disc is due to be re-issued in stores with bonus tracks.
The new album, Around the World, was designed to offer a virtual music global tour of Latin tributes to club hits. Señor Coconut reassembled and processed each track before recording with his preferred big band. Around the World features Daft Punk's track by the same name as an intro, interlude and outro. According to promotional materials, Señor Cocount  takes an original song "from the depths of a sweaty club and places it in a Latin dancehall with a multi-layered sound of brass, double bass and an orchestra of drummers."
Uwe Schmidt is known by his artistic name Señor Coconut
"Once Around the World had been established as the theme and motto of the album, it was clear what the selection criteria for the songs had to be," said Señor Coconut. "The first prerequisite was that every track had to come from a different country. One track which had been in my thoughts for years for a Señor Coconut production was Sweet Dreams, purely and simply because it is rhythmically and melodically a perfect Cha-Cha-Cha. I suddenly heard certain lines of the lyrics which I had not noticed at first, and which provided a curious cross-reference to Around the World: 'I traveled the world and the seven seas… Everybody's looking for something.'"
Sweet Dreams is a take on the Eurythmics classic, with vocals by Señor Coconut's frontman Argenis Brito, a Venezuelan singer based in Berlin.  Kiss by Prince was interpreted by Louie Austen. With El Baile Aleman, Señor Coconut's idea was to transpose Kraftwerk byte-for-byte into a sound field of maracas, congas, shakers, and vibes-a-go-go.
El Baile Aleman includes takes on Kraftwerk classics Showroom Dummies, Trans Europe Express, The Robots, Autobahn and Tour de France with the percussion and effects of the originals replaced by Latin rhythms.
"I think that it's not just a covers album," said Coconut. "It also unveils quite a lot about the original compositions and their significance. Kraftwerk songs contain a strong musical content even if freed from their electronic arrangements. And I don't think the band is as serious as people think they are."
The album tracks are as follows: Around the World (Intro), Sweet Dreams, Da Da Da Ich Leib Dich Nicht du Liebst Mich, Kiss, Corcovado (Quiet Nights of Quiet Stars), Around the World (Interlude), Que Rico El Mambo, Pinball Chacha, White Horse, La Vida Es Llena de Cables, Moscow Discow, Around the World (Outro), Dreams Are My,  and Voodoo Dreams (Atom Remix). Click on the play button to listen to Corcovado from the new album Around the World.
---
Click here to buy Around the World
---