Posted by Elena del Valle on December 1, 2008
Aldo Quevedo, president, Dieste Dallas
Photo: Dieste
A podcast interview with Aldo Quevedo, president, Dieste Dallas is available in the Podcast Section of Hispanic Marketing & Public Relations, HispanicMPR.com. During the podcast, Aldo discusses reinventing the Hispanic agency with Elena del Valle, host of the HispanicMPR.com podcast.
Aldo began his creative career in advertising in 1990 as a copywriter with Ogilvy & Mather Mexico. Starting in 1996, Aldo has helped establish Dieste as one of the leading agencies in the Hispanic market.
Several national and international award committees have recognized his work. He was the first Mexican to win a Cannes Lion and the Grand Award at the New York Festivals.
His work has received several Best of Show at the ADDY Awards, two Best of Show Awards at the Advertising Age Hispanic Awards, and several SOLES at the Festival Iberoamericano de Agencias de Publicidad in Buenos Aires, Argentina.
In 1999, 2000 and again in 2002, LatinSpots, an advertising industry magazine in Latin America, chose him as the top Hispanic Creative Director in the USA. In 2004, Aldo was inducted into the Hall of Achievement of the American Advertising Federation (AAF).
To listen to the interview, scroll down until you see "Podcast" on the right hand side, then select "HMPR Aldo Quevedo," click on the play button below or download the MP3 file to your iPod or MP3 player to listen on the go, in your car or at home. To download it, click on the arrow of the recording you wish to copy and save it to disk. The podcast will remain listed in the December 2008 section of the podcast archive.
---
Target Latinos effectively by understanding how they shop 
"Hispanic Holiday Shopping Patterns" audio recording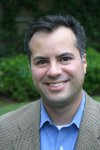 Manuel Delgado, CEO Agua Marketing, gives a presentation and participates in an extended Q&A discussion about
Hispanic shopping patterns national survey
Why Latino consumers may be more desirable than general market shoppers
Hispanics holiday shopping patterns and behaviors
Click here for information on "Hispanic Holiday Shopping Patterns" audio recording
---