Posted by Elena del Valle on November 19, 2008
Bob Liodice, president and CEO, ANA
Photos: Association of National Advertisers (ANA)
Yesterday, the Association of National Advertisers (ANA) has announced the winners of the 2008 Multicultural Excellence Awards during the 10th annual ANA Multicultural Marketing Conference in Boca Raton, Florida. In its eighth year, the awards recognize ANA member companies and marketers in six categories for their work in producing multicultural advertising campaigns that aired between June 2007 and May 2008.
This year, the ANA created a new category for strong work across all ethnic segments in Digital Media. The winners in each category were: Blue Shield of California won the Hispanic ad category for the Blue Shield of California ad. In the African American category, Prime Access, Inc. was recognized for the Partnership For a Drug Free America ad; and in the Asian category interTrend Communications won for its State Farm Insurance ad.
---
Make your ads resonate with Hispanics
Listen to C&R's Research Director Liria Barbosa in
"Hispanics' Perspective on Advertising" audio recording

Liria Barbosa gives a presentation and participates in an extended Q&A discussion about
• Type of ads Latinos prefer
• Latino top media choices
• Percent of Latinos who tried products because of ads
• Percent of Latinos who purchased products because of ads
• What makes an ad "Hispanic"
• If ad language is important for bicultural Latinos
• What to keep in mind when targeting bicultural Latinos with ads
Click here for information on Hispanic Perspectives on Advertising
---
The Vidal Partnership received the recognition for Digital Media for the Cadbury Dentyne ad; DDB won in the General Market Category for its McDonald's ad; and Grupo Gallegos won in the Campaign with Significant Results category for its Energizer ad.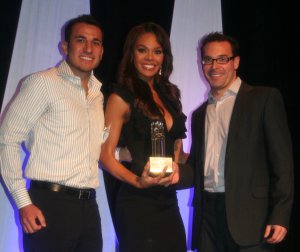 Hispanic category winners: Juan Zubiate, Latino project manager and Seth Berman, director of Marketing Stratey and Operations, Blue Shield of California and Miss USA, Crystale Stewart
"Our winners have established themselves as leaders in the world of multicultural marketing and their work represents the best in our industry," said Bob Liodice, president and chief executive officer of the ANA. "I am thrilled that through the Multicultural Excellence Awards, the ANA is able to recognize the contributions these organizations have made and the growing importance of speaking to consumer through multicultural channels.  I offer all of them my congratulations."
The awards are sponsored by the ANA Multicultural Marketing Committee. The winners, selected by members of the 134-member committee, were judged on a scale of one to ten (where 20 was a perfect score) for creativity and relevancy to multicultural markets. Established in 1998, the committee is dedicated to helping ANA members share knowledge and best practices in marketing to America's ethnic markets.
A portion of the proceeds collected from the awards submission fees is earmarked to help fund scholarships for multicultural students pursuing careers in advertising and or marketing.
The ANA's mission is to "provide indispensable leadership that drives marketing communications, media and brand management excellence and champions, promotes and defends industry interests." The ANA is a source of marketing communications best practices information. Tasked with leading  industry initiatives, influencing industry practices, managing industry affairs, and advances, promoting and protecting advertisers and marketers; the trade association represents 400 companies with 8,000 brands that collectively represent $250 billion in marketing spending.