Posted by Elena del Valle on November 12, 2008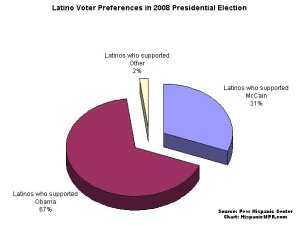 Latino Voter Preferences in 2008 election – click on chart to enlarge
According to exit polls of Latinos in nine states, Hispanics in the November 4, 2008 election voted more than two to one in favor of Democrats Barack Obama and Joe Biden over Republicans John McCain and Sarah Palin. In at least one state this voting pattern represented a reversal from the last election when many Latinos voted for the Republican candidate.
A report updated November 7 and written by Mark Hugo Lopez, associate director, Pew Hispanic Center indicates 67 percent of respondents said they voted for the Democratic candidates while 31 percent said they voted for the Republican candidates. The findings represent responses from Latino voters in Arizona, California, Colorado, Florida, Illinois, Nevada, New Jersey, New Mexico and Texas.
Across the country Latinos voted for Obama in significant numbers. A slightly higher percentage of Hispanic women voters (68 percent) than Hispanic men voters (64 percent) favored Obama. Young Hispanics voted like most of the youth in the country. Seventy-six percent of young Latinos supported the Democratic presidential candidate compared with only 19 percent who voted for the Republican presidential candidate.
---
Target Latinos effectively by understanding how they shop 
"Hispanic Holiday Shopping Patterns" audio recording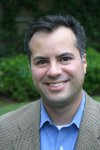 Manuel Delgado, CEO Agua Marketing, gives a presentation and participates in an extended Q&A discussion about
Hispanic shopping patterns national survey
Why Latino consumers may be more desirable than general market shoppers
Hispanics holiday shopping patterns and behaviors
Click here for information on "Hispanic Holiday Shopping Patterns" audio recording
---
In states with large Latino populations Obama was the victor by large margins. The most notable of these was Florida. In past elections many of Florida's Latinos voted Republican. For example, in 2004, 56 percent of Latino voters supported President Bush. This year, 57 percent of Florida Latinos voted for Obama.
In other states with large Latino populations the margin favoring the Democratic candidates was more pronounced. In New Jersey, Obama carried 78 percent of the Latino vote; in Nevada, 76 percent, and in California, 74 percent.The findings are based on analysis by the Pew Hispanic Center of exit polls from Edison Media Research published by CNN.
The Center's researchers estimate there was a 1 percent increase in Latino voters compared to the last elections; 9 percent of the voters in the 2008 election were Latino compared to 8 percent in 2004.
The Pew Hispanic Center, a nonpartisan research organization, is dedicated to improving public understanding of the Hispanic population in the United States and to chronicle Latinos' growing impact on the nation. It does not take positions on policy issues.
---
Hispanic Marketing and Public Relations Understanding and Targeting America's Largest Minority book

"A must resource for practitioners/professionals expecting to reach US Hispanics; also valuable for college programs in marketing, public relations and communications. Highly recommended."
Choice magazine
Click here for information on the Hispanic Marketing & Public Relations book
---