Posted by Elena del Valle on November 10, 2008
Brian Requarth, CEO, Bilingual Marketing Group
Photo: Bilingual Marketing Group
A podcast interview with Brian Requarth, chief executive officer, Bilingual Marketing Group is available in the Podcast Section of Hispanic Marketing & Public Relations, HispanicMPR.com. During the podcast, he discusses the Hispanic home buyer market online with Elena del Valle, host of the HispanicMPR.com podcast. Scroll down to listen to the interview.
Brian is also cofounder of Bilingual Marketing Group, a real estate media company that operates the VivaReal Network. Brian founded ColConnect in 2004, a company focused on providing bilingual web solutions and translation services to real estate professionals targeting the United States Hispanic market.
He recently wrote an e-book, in English and Spanish, about blogging for the Hispanic real estate market. Over the last decade Brian has spent five years living, working and studying in Mexico, Costa Rica, Colombia, Portugal, Spain and Argentina. In addition to English, he speaks Spanish and Portuguese. He and his wife live half the year in Northern California and the other half in Bogota, Colombia.
To listen to the interview, scroll down until you see "Podcast" on the right hand side, then select "HMPR Brian Requarth," click on the play button below or download the MP3 file to your iPod or MP3 player to listen on the go, in your car or at home. To download it, click on the arrow of the recording you wish to copy and save it to disk. The podcast will remain listed in the November 2008 section of the podcast archive.
---
"Segmentation by Level of Acculturation" audio recording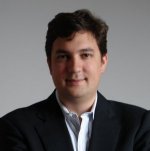 Presenter Miguel Gomez Winebrenner
Discusses
Assimilation versus acculturation
Factors that affect Latino acculturation
How to know if someone is acculturated
Number of years necessary for acculturation
Effects of immigration debate on acculturation
Three main ways of segmenting Latinos
Click here for details about "Segmentation by Level of Acculturation"
---