Posted by Elena del Valle on November 3, 2008
Manuel Delgado, chief executive officer, Agua Marketing
Photo: Agua Marketing
A podcast interview with Manuel Delgado, chief executive officer, Agua Marketing is available in the Podcast Section of Hispanic Marketing & Public Relations, HispanicMPR.com. During the podcast, he discusses Hispanic holiday shopping patterns in light of Hispanic cultural elements and based on a national survey with Elena del Valle, host of the HispanicMPR.com podcast.
After years as account planner at JWT Advertising in Venezuela, Manuel started his United States career in 1997, when he was recruited by Compaq in Houston to start the company's Latin America Internet efforts. Under his leadership, Compaq became a pioneer in the Latin American Internet and was the first computer manufacturer to launch websites and start eCommerce efforts in the region.
After two years in Latin America, he was tapped to lead the deployment of worldwide eCommerce capabilities for Compaq. Manuel launched online stores and retail kiosks in Australia, France, the United Kingdom and Puerto Rico.
In 2003, Manuel founded Agua Marketing named to reflect the multicultural markets in the United States: ever changing and vital. Agua Marketing clients include Best Buy, Hewlett-Packard, Dixie and the Boy Scouts of America.
Manuel holds an MBA from Vanderbilt University and a BS in Industrial Engineering from the Universidad Catolica Andres Bello in Caracas, Venezuela. Manuel is a former board member of the American Marketing Association, the National Society of Hispanic MBAs and the Houston Interactive Marketing Association. He is also one of the founders of NewSpring, a business incubator for low income Hispanic entrepreneurs.
To listen to the interview, scroll down until you see "Podcast" on the right hand side, then select "HMPR Manuel Delgado," click on the play button below or download the MP3 file to your iPod or MP3 player to listen on the go, in your car or at home. To download it, click on the arrow of the recording you wish to copy and save it to disk. The podcast will remain listed in the November 2008 section of the podcast archive.

---
Want to know more about this topic?
Target Latinos effectively by understanding how they shop 
"Hispanic Holiday Shopping Patterns" audio recording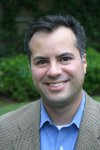 Manuel Delgado, CEO Agua Marketing, gives a presentation and participates in an extended Q&A discussion about
Hispanic shopping patterns national survey
Why Latino consumers may be more desirable than general market shoppers
Hispanics holiday shopping patterns and behaviors
Click here for information on "Hispanic Holiday Shopping Patterns" audio recording
---