Posted by Elena del Valle on October 31, 2008
Preschooler Learns Spanish DVD cover
Photo: Galloping Minds Company
The Galloping Minds Company, introduced its newest DVD title, Preschooler Learns Spanish, nationwide September 16, 2008. Preschooler Learns Spanish was designed for children between one and five years old as an easy-to-follow introduction for early learners to basic Spanish vocabulary and phrases. Soon after its release the Preschooler Learns Spanish DVD, was named a winner in Dr. Toy's Best New Products Picks for 2008.
On the DVD, each word within a select category is presented on screen along with a live-action video example and spoken several times in Spanish and English. The repetition is meant to provide young viewers the chance to hear, repeat and learn basic words and phrases in both languages. Video clips and festive music were included to  keep the child's attention focused through each lesson.
---
Discover from a new mom market expert how to reach Latino moms by listening to
"Marketing to New Hispanic Moms – a case study" audio recording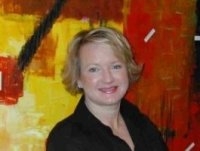 Presenter Cynthia Nelson, COO, Todobebe
Find out about
• New Latina mom market
• Baby demographics including market size, profile
• New moms' language preferences
• Latino baby market trends
• Factors influencing Hispanic baby market
• Location of new Hispanic moms' market
• Issues affecting new Latino moms
• Todobebe strategies
Click for information on "Marketing to New Hispanic Moms – a case study"
---
The lessons address educational basics like colors, numbers and things children see every day. The DVD includes segments about Family, Action Words, Parts of the Body, Food, Means of Transportation, Everyday Objects, Nature and Animals and Numbers and Colors. Preschooler Learns Spanish has a running time of 36 minutes and a suggested retail price of $14.99.
Other Galloping Minds DVDs include Baby Learns Alphabet and Phonics, Baby Learns Shapes and Colors, Baby Learns Numbers and Animals and Preschool Baby Learns About Computers.
Galloping Minds titles have received awards and recognitions such as Baby Learns Alphabet and Phonics was rated amongst the top 5 Alphabet and Phonics DVDs by About.com. They have also received Dr. Toy's Best Product Award, Creative Child's Preferred Choice Award, five stars from Family Product Review, five stars from Midwest Book Reviews and the Dove Foundation Award for good family entertainment.
The DVDs are part of Cox Cable Networks Video on Demand, Direct TV, AT&T U-verse programming. Galloping Minds' DVDs are available in the United States, United Kingdom, India, Singapore, Malaysia, Indonesia, Turkey, Philippines and Middle-Eastern Countries.
Based in Cupertino, Galloping Minds was founded 2003. The owners are Bobby Sarin and Dimple Duggal.
---
Click here to buy Preschooler Learns Spanish
---