Posted by Elena del Valle on October 30, 2008
Chef John Sedlar, founder, Museum Tamal
Photos: Arámbula Phillips Communications
In 2004, Museum Tamal, a museum dedicated to the study of Latin culture through cuisine opened in Los Angeles.  Described in promotional materials as "an historic excursion into the heart of South America, Mexico, Spain and the Southwestern United States, via the taste buds – presenting art good enough to eat," the museum was founded by John Sedlar, a chef and southwestern cuisine aficionado, with the help of seven supporters. The target audience is 50 percent Latino and 50 non Latino with special emphasis on education for children.
Now, with the help of a local marketing company, Arambula Phillips Communications, Inc. , museum leaders hope to expand the brand and market the museum. The museum, dedicated to the celebration of Latin culture and food, counts Maseca, Juanita's Foods,  Melissas's World Variety Produce and Lawry's among its financial supporters.
---
Hispanic Marketing and Public Relations Understanding and Targeting America's Largest Minority book

"A must resource for practitioners/professionals expecting to reach US Hispanics; also valuable for college programs in marketing, public relations and communications. Highly recommended."
Choice magazine
Click here for information on the Hispanic Marketing & Public Relations books
---
Exhibits and presentations focus on the regional dishes of Mexico and the foods of the American Southwest. Exhibits also showcase the indigenous ingredients and traditional cooking techniques and cultures of Central and South America, the Hispanic Caribbean, and the historic influences of Spain.
The museum will be centered on a restaurant and exhibition kitchen where Latin foods will be prepared and served to visitors. According to the museum website, the first 10 permanent exhibits illustrate the historic importance of Latin foods from pre-Columbian times to Tamale Technology, Chileology and chocolate.
In addition to Sedlar; Eddie Sotto, art and design consultant, Sotto Studio; John Harrisson, exhibit writer; Norman Kolpas, culinary media consultant and exhibition writer;  Howard Shapiro, Ph.D., exhibit writer and technical consultant; Orlando Ramirez, exhibit writer; and Carlos Arambula and Richard Phillips, marketing consultants, Arambula Phillips Communications, Inc. Arambula Philips Communications.
Carlos Arambula, marketing consultant, Arambula Phillips Communications
"Food is at the heart of Latin identity which represents family, livelihood and a way of life," said Arambula. "The ingredients, methods and culinary techniques indigenous to Hispanic heritage are the unique focus of this project and we are very excited to be a part of the experience."
The museum marketers are planning media appearances, cross promotion with other museums, undraising events, and partial exhibits to help spread the word and draw visitors and sponsors.
Arambula Philips Communications launched a Museum Tamal website in September 2008 to provide information and serve as a membership and resource hub. Arambula Philips Communications is the brainchild of Carlos Arambula and Richard Phillips who work to develop brands across cultural, language and geographical boundaries. Between them they have over 35 years of work experience in the domestic, Hispanic and international markets.
Sedlar grew up in Santa Fe, New Mexico. In his early twenties, he was a chef in Southern California. Eventually he started his first restaurant, Saint Estephe, where he combined the traditional foods of his childhood with classic French techniques, developing what he termed Modern Southwest Cuisine. Sedlar is a restaurant consultant and author.
---
"Happy for No Reason" audio recording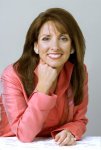 Presenter Marci Shimoff, author, Happy for No Reason
What: An audio presentation by Marci Shimoff and Q&A with Marci Shimoff and HispanicMPR.com audio program host Elena del Valle about finding happiness.
Available exclusively on HispanicMPR.com!
More information on "Happy for No Reason" audio recording with Marci Shimoff
---