Posted by Elena del Valle on October 29, 2008
Democracy, Rights, Responsibility and Voting
By Adrienne E. Katz Katz
Member, League of Women Voters of Orange County
Adrienne E. Katz Katz, member, League of Women Voters of Orange County
Children of all ages know something important is happening during a Presidential Election, especially this one—they can't miss the television commercials and concerned discussion among adults.  Even some computer games are showing campaign commercials.
These challenging times are ideal for giving kids an overview of American government, with an explanation of their rights, responsibilities and the roles as citizens that they will assume when they turn eighteen.  The reminders listed below, and the simple tools and websites readily available, will make your task easier.
Click here to read the complete article
---
"Happy for No Reason" audio recording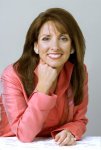 Presenter Marci Shimoff, author, Happy for No Reason
What: An audio presentation by Marci Shimoff and Q&A with Marci Shimoff and HispanicMPR.com audio program host Elena del Valle about finding happiness.
Available exclusively on HispanicMPR.com!
More information on "Happy for No Reason" audio recording with Marci Shimoff
---