Posted by Elena del Valle on October 13, 2008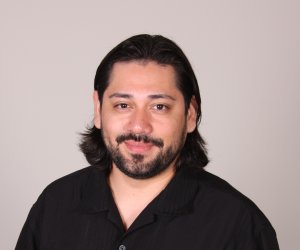 Javier Farfan, multicultural marketing manager, Zune
Photo: Zune
A podcast interview with Javier Farfan, multicultural marketing manager, Zune is available in the Podcast Section of Hispanic Marketing & Public Relations, HispanicMPR.com. During the podcast, Javier discusses Zune and the company's efforts to target United States Latinos with Elena del Valle, host of the HispanicMPR.com podcast.
Javier joined Zune in March 2007 and is responsible for marketing and communications efforts within the U.S. Hispanic market. He is familiar with Latino and Urban music, especially in marketing, music and entertainment, and artist promotion. His also brings knowledge of Latin alternative, rap, reggaeton and regional Mexican music.
Farfan has a musical background working with artists and industry insiders. Prior to joining Zune, he was the director of marketing for MTV Networks where he helped launch the Latino broadcast channel, MTV Tr3s. At MTV Tr3s he spearheaded consumer marketing and strategic partnership initiatives to drive brand awareness, programming launches and key Hispanic marketing efforts. At MTV Networks, Javier was also a part of the Spike TV and Nickelodeon unit and worked with senior programming and distribution executives to develop, implement and market to U.S. Hispanics.
---
Hispanic Marketing and Public Relations Understanding and Targeting America's Largest Minority book

"A must resource for practitioners/professionals expecting to reach US Hispanics; also valuable for college programs in marketing, public relations and communications. Highly recommended."
Choice magazine
Click here for information on the Hispanic Marketing & Public Relations books
---
Before helping to launch MTV Tr3s with MTV Networks, Javier spent four years in the personal finances business where he developed and implemented tactical plans to increase online account acquisition. He was also a co-founder of Jump Nation, a mentoring program that promotes education inner-city youth. Javier, a New York City native, holds a Master of Arts from Columbia University and a Master of Business Administration from the New York University.
To listen to the interview, scroll down until you see "Podcast" on the right hand side, then select "HMPR Javier Farfan," click on the play button below or download the MP3 file to your iPod or MP3 player to listen on the go, in your car or at home. To download it, click on the arrow of the recording you wish to copy and save it to disk. The podcast will remain listed in the October 2008 section of the podcast archive.

---
Find out what multicultural kids across America think
Listen to Michele Valdovinos, SVP, Phoenix Multicultural in
"Marketing to Multicultural Kids" audio recording

Michele Valdovinos gives a presentation and participates in an extended Q&A discussion about multicultural children based on a Phoenix Multicultural and Nickelodeon study of 1,300 multicultural children in 16 United States markets.
Find out about
• The Phoenix Multicultural Kids Study
• Relationship between children and their context
• Issues relating to family, technology and media, diversity, buying power, relationships in household, self perception, values, acculturation, cultural heritage, frequency of media activity, income and spending, brand preferences, the American Dream
• How many billions of dollars buying power multicultural kids children have
• Children's spending attitudes, habits by ethnicity
• How much money a year Hispanic kids have available to spend
• Types of products Hispanic kids buy
Click here for information on "Marketing to Multicultural Kids" audio recording
---