Posted by Elena del Valle on October 3, 2008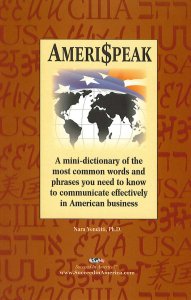 How to Get a Job in the USA and Ameri$peak book covers
Believing that there is a strong relationship between the right vocabulary and success in America, Nara Venditti, Ph.D., an immigrant herself, published Ameri$peak (Suceed in America, $14.99) a mini dictionary. Ameri$peak is a 95-page softcover book filled with common words and phrases for foreign born workers wishing to interact with Americans in a business setting.
In writing the mini-dictionary, published by her company in 2006, Venditti relied on her experience as an educational programs developer for international executives, translator, interpreter, and international relocation consultant. In the book, she focuses on units of general meaning that are commonly used in business, and words that are important in all areas of business. Readers are invited to visit the book's companion website for updates.
Venditti also published a step by step guide for foreign nationals wishing to find a job in the United States, her second book that year. In How to Get a Job in the USA, a 112-page soft cover book, she shares insights on American job search and interviewing techniques.
She promises the reader insights on competing in the American job market, networking and making contact, finding out about job openings, preparing for an interview, following up on an interview, negotiating a job offer and getting the job desired.
Venditti is president and founder of Suceed in America, a consulting company that assists clients with workplace, career counseling and cultural understanding issues. She is an adjunct lecturer at Western Connecticut State University and the author of 61 published works.
---
Click here to buy How to Get a Job in the USA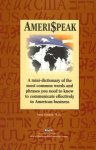 Click here to buy Ameri$peak
---