Posted by Elena del Valle on October 2, 2008
Mark Colyer, EVP of Business Development, Branded Marketing
Photo:  Branded Marketing
Executives at Haskell, New Jersey based Branded Marketing thought there was a market for prepaid credit cards for Latinos who couldn't access or didn't want regular bank cards. To serve this market they began offering Pr1macard Prepaid MasterCard, prepaid credit cards, June 2008. To date the company has signed 12 retail distribution partners and sold 700 cards.
To participate as a retail distribution partner a store must be in the Money Service Business (MSB) in its home state. Common partners include licensed check cashers, pharmacies, bodegas, and convenience stores.
Pr1macard Prepaid MasterCard
The Pr1macard by 1800Tarjetas.com is made up of a portfolio of four financial card products designed for the underbanked or underserved United States Latino market. Branded Marketing has a toll-free numbers serving as the bilingual call center platform for new customer acquisition inquiries and cardholder customer service and support.
"In eight short weeks we've been able to prove to our first 12 retail partners that our Pr1macard product is a cost efficient, quality product that will drive more foot traffic into each store and create a real time commission plus residual revenue stream to their bottom lines," said Mark Colyer, executive vice president of Business Development for Branded Marketing.
---
Hispanic Marketing and Public Relations Understanding and Targeting America's Largest Minority book

"A must resource for practitioners/professionals expecting to reach US Hispanics; also valuable for college programs in marketing, public relations and communications. Highly recommended."
Choice magazine
Click here for information on the Hispanic Marketing & Public Relations books
---
"It is important for us as a company to strengthen our three prong approach to distributing our card, those being at the retail level, on the Internet via our website, and via our live operator bilingual call center. Our goal is to roll out 10 to 15 quality retail partner stores a month for the remainder of 2008, then accelerate that to 25 stores per month through 2009."
Marketers tout the card as a cost efficient product and promise it will increase foot traffic into each store and create a real time commission plus residual revenue stream to the store's bottom line. Pr1macard Prepaid MasterCard benefits they promote include: 100 percent approval subject to identification and address verification; cash through ATMs; and Cash Reload through participating retail locations; accepted wherever MasterCard debit cards are welcome; dual card option which allows card holders to share the card with family members; bank loans via a bank to card transfer feature.
Promotional materials emphasize benefits like the English and Spanish live customer service; bill paying usefulness (many of the unbanked struggle to pay bills since they have no credit or bank accounts); the holder's ability to establish a credit history; the advantage of having a prepaid card that doesn't create debt; and a direct deposit option.
Branded Marketing, established May 2007, is privately owned by a group of 45 investors and founders. The Pr1macard Prepaid MasterCard is issued by Palm Desert National Bank under its license by MasterCard International Incorporated. Branded Marketing is a registered MSP of Palm Desert National Bank and MasterCard is a registered trademark of MasterCard International Incorporated.
---
"Happy for No Reason" audio recording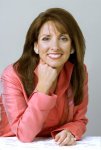 Presenter Marci Shimoff, author, Happy for No Reason
What: An audio presentation by Marci Shimoff and Q&A with Marci Shimoff and HispanicMPR.com audio program host Elena del Valle about finding happiness.
Available exclusively on HispanicMPR.com!
More information on "Happy for No Reason" audio recording with Marci Shimoff
---