Posted by Elena del Valle on September 29, 2008
Julio Stieffel, director, BuscAbogados.com
Photo: BuscAbogados.com
A podcast interview with Julio Stieffel, director, BuscAbogados.com is available in the Podcast Section of Hispanic Marketing & Public Relations, HispanicMPR.com. During the podcast, Julio discusses the new website with Elena del Valle, host of the HispanicMPR.com podcast.
Julio founded Americas Rep International, an international consulting firm specializing in the Latin American market. He graduated from the University of Miami with a degree in Inter-American Studies. Julio brings nearly 30 years of international sales and marketing intelligence and experience to the BuscAbogados.com team.
To listen to the interview, scroll down until you see "Podcast" on the right hand side, then select "HMPR Julio Stieffel," click on the play button below or download the MP3 file to your iPod or MP3 player to listen on the go, in your car or at home. To download it, click on the arrow of the recording you wish to copy and save to disk. The podcast will remain listed in the September 2008 section of the podcast archive.
---
Reach Hispanics online today with
"Marketing to Hispanics Online" audio recording
Identifying and characterizing the booming Hispanic online market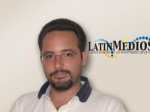 Joel Bary, Alex Carvallo and Matias Perel
Find out about
• The 16 million Latino online users
• Latino online users by gender
• What they do online
• Their language preferences
• How to reach Hispanic urban youth online
• What affects their online behavior
• What influences their purchases
Click here for information about "Marketing to Hispanics Online"
---