Posted by Elena del Valle on August 27, 2008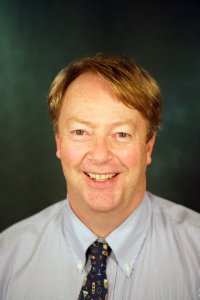 Mark Waller, senior vice president, Marketing and Sales, NFL
Photos: National Football League, ESPN
On Monday, September 15, the National Football League and ESPN will kick off Hispanic Heritage Month (September 15-October 15) with a special celebration surrounding the Philadelphia Eagles at Dallas Cowboys Monday Night Football game (8:30 p.m. ET, ESPN and ESPN Deportes). The organizers consider the game the signature event for the NFL's Fútbol Americano initiative celebrating Hispanic Heritage Month, as well as a signature event within ESPN's month-long campaign and programming efforts on ESPN Deportes to recognize the accomplishments of Hispanics.
ESPN Deportes, the only Spanish-language network in the country to broadcast football in Spanish, has been celebrating Hispanic Heritage Month for five years. This is the third season that ESPN Deportes broadcasts NFL in Spanish.
According to the 2007 ESPN Deportes Hispanic Sports Poll, 64.4 percent of English dominant Hispanics are NFL fans and 34.3 percent called themselves avid NFL fans; 64.4 percent of respondents ranked NFL as English dominant Hispanics favorite sport to watch; among Spanish dominant Hispanics, 32.8 percent of respondents considered themselves NFL fans and 8.7 percent called themselves avid NFL fans.
---
Hispanic Marketing and Public Relations Understanding and Targeting America's Largest Minority book

"A must resource for practitioners/professionals expecting to reach US Hispanics; also valuable for college programs in marketing, public relations and communications. Highly recommended."
Choice magazine
Click here for information on the Hispanic Marketing & Public Relations books
---
The Monday Night Football game telecast on ESPN is scheduled to include special graphic integrations, vignettes and audio from the ESPN Deportes Spanish-language telecast featuring Emmy-nominated play-by-play commentator Álvaro Martín and former NFL kicker Raúl Allegre.
There will also be a customized version of the Hank Williams Jr. open, including some lyrics in Spanish, during the telecast. And, the Monday Night Countdown pre-game (7 p.m.) will highlight events with special features and coverage of the national anthem, performed by a Latino artist at Texas Stadium that evening.
"We're excited to partner with ESPN to shine a national spotlight on Hispanic Heritage Month," said Mark Waller, senior vice president, Marketing and Sales, NFL. "The Monday Night telecast will kick off festivities across the country to honor the NFL's Hispanic players and fans."
---
Make your ads resonate with Hispanics
Listen to C&R's Research Director Liria Barbosa in
"Hispanics' Perspective on Advertising" audio recording

Liria Barbosa gives a presentation and participates in an extended Q&A discussion about
• Type of ads Latinos prefer
• Latino top media choices
• Percent of Latinos who tried products because of ads
• Percent of Latinos who purchased products because of ads
• What makes an ad "Hispanic"
• If ad language is important for bicultural Latinos
• What to keep in mind when targeting bicultural Latinos with ads
Click here for information on Hispanic Perspectives on Advertising
---
ESPN Deportes, which airs Spanish-language television Monday Night Football games, plans to feature its entire broadcast team with Martín, Allegre and sideline reporter John Sutcliffe on site for the match-up between the Águilas and Vaqueros (the teams' Spanish language names, which will appear on Texas Stadium scoreboards during the game).
ESPN Deportes plans to cover the anthem ceremony during the NFL Esta Noche pre-game show, as well as the halftime entertainment performance by Latin pop duo Prima J with cousins Jessica and Janelle Martinez.
John Wildhack, executive vice president, Program Acquisitions and Strategy, ESPN
"The MNF game telecasts on ESPN and ESPN Deportes, as well as surrounding coverage and promotional support across multiple ESPN platforms, will celebrate Hispanic Heritage Month and the passion that Hispanics have long had for the NFL," said John Wildhack, executive vice president, Program Acquisitions and Strategy, ESPN.
The day of the game, the NFL, ESPN and the Cowboys will host a MNF Chalk Talk Luncheon for 150 invited guests at Ruth's Chris Steakhouse in Dallas. Alumni players from the Eagles and Cowboys have been invited to the event in honor of Hispanic Heritage Month. Martín and Allegre will be part of the panel of NFL experts. One of the organizations to be recognized for its work in the Dallas community will be a local Hispanic non-profit organization.
In anticipation of the Eagles-Cowboys game, Fútbol Americano messaging will be integrated into ESPN's MNF promotion across television, radio, online and print. The following week, ESPN plans promotional support in anticipation of Hispanic Heritage Celebration events in San Diego around the Jets-Chargers MNF game. During that period, the NFL will air new spots from its "We are fans!" television campaign in recognition of Hispanic Heritage Month. Also, promoters will run a print ad in USA Today Sports in the hope of driving tune-in to the MNF Hispanic Heritage Month game.
Hispanic Heritage Month activities in Dallas will begin Saturday, September 7, when Texas Stadium and the Cowboys host the 30th annual Fiestas Patrias, a free outdoor Hispanic Music Festival in Texas. ¡En Vivo!, the ESPN Deportes interactive traveling stadium, will be part of the celebration. Local community outreach events continue September 13, with an NFL Play 60 Youth Football Festival at Texas Stadium.
---
Find out which Latino markets are booming with
"The Next Step: Secondary Latino Markets" audio recording

Presenter Dora O. Tovar, MPA
Click here for information on Secondary Latino Markets
---
The festival will include NFL Flag clinics, as well as an NFL Flag exhibition game between Los Diablitos from Mexico City and a local Dallas NFL Flag team. Los Diablitos are the national champions of NFL Tochito, the NFL Flag football program in Mexico. They will be recognized at Texas Stadium on field at halftime at the Monday Night Football game.
ESPN's month-long Hispanic Heritage Month celebration will kick off September 1 with an integrated campaign across various ESPN entities on television, radio, print and online. Titled "Hispanics on and off the Field," the campaign is designed to highlight the contributions Hispanics have made in the world of sports. ESPN's Hispanic Heritage Month schedule will feature two new programs and daily 30-second vignettes honoring Hispanic athletes.
Themed programming will include J.C. Chávez, a film about the feats of Julio César Chávez, a Hispanic boxer. Directed by Diego Luna of Y Tu Mamá También (2001), the film examines Mexico's adoration of the iconic six-time world title champion and will air on television for the first time Saturday, September 27 at 10 p.m. ET on ESPN Deportes and ESPN Classic. In addition, dominoes, will also take center stage during Hispanic Heritage Month with the premiere of the VI World Domino Championship September 23-25 at 8 p.m.
---
Make your ads resonate with Hispanics
Listen to C&R's Research Director Liria Barbosa in
"Hispanics' Perspective on Advertising" audio recording

Liria Barbosa gives a presentation and participates in an extended Q&A discussion about
• Type of ads Latinos prefer
• Latino top media choices
• Percent of Latinos who tried products because of ads
• Percent of Latinos who purchased products because of ads
• What makes an ad "Hispanic"
• If ad language is important for bicultural Latinos
• What to keep in mind when targeting bicultural Latinos with ads
Click here for information on Hispanic Perspectives on Advertising
---