Posted by Elena del Valle on August 25, 2008
Sandra G. Susino, independent affiliate partner (former director of Business Development), Neighborhood America
Photo: Sandra G. Susino
A podcast interview with Sandra G. Susino, independent affiliate partner (former director of Business Development), Neighborhood America is available in the Podcast Section of Hispanic Marketing & Public Relations, HispanicMPR.com. During the podcast, she discusses business benefits of mobile marketing and online social networking with Elena del Valle, host of the HispanicMPR.com podcast.
Prior to joining Neighborhood America, Sandra was director of Business Development for a company that was acquired by Microsoft. She was also a consultant and manager at IBM, as well as at Deloitte's Media and Entertainment Group.
A former Fulbright scholar, Sandra earned an undergraduate degree from Princeton, a Masters in Computer Science from Stanford, and business certifications from Harvard. Sandra is originally from New York City.
Neighborhood America is technology provider of online enterprise social networking and mobile phone marketing solutions. Neighborhood America clients include Adidas, HGTV/Scripps Network, Kodak, ABC, FoxNews, and Nexxus.
To listen to the interview, scroll down until you see "Podcast" on the right hand side, then select "HMPR Sandra Susino," click on the play button below or download the MP3 file to your iPod or MP3 player to listen on the go, in your car or at home. To download it, click on the arrow of the recording you wish to copy and save it to disk. The podcast will remain listed in the August 2008 section of the podcast archive.
---
Reach Hispanics online today with
"Marketing to Hispanics Online" audio recording
Identifying and characterizing the booming Hispanic online market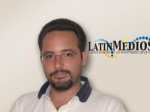 Joel Bary, Alex Carvallo and Matias Perel
Find out about
• The 16 million Latino online users
• Latino online users by gender
• What they do online
• Their language preferences
• How to reach Hispanic urban youth online
• What affects their online behavior
• What influences their purchases
Click here for information about "Marketing to Hispanics Online"
---