Posted by Elena del Valle on August 22, 2008
Treasure Hunt with the Munch Crunch Bunch cover
Photos: MunchCrunchBunch.com

Melinda Hemmelgarn R.D., M.S. and Jan Wolterman believe nutrition education has best results when it features creative and interactive material that involves the parents and child. To promote healthy eating among children they became coauthors of a 32-page self published booklet that does just that. Already they have sold 23,000 copies of the booklet, published in 2006, and available in English and Spanish.
According to a recent research study the Munch Crunch Bunch food characters in their book were likely to influence children, ages 5 to 8, to make healthy food choices. Children in the first and second grades completed a questionnaire tracking their intake of food. Following that task they participated in a nutrition education activity using the Treasure Hunt with the Munch Crunch Bunch story/activity book.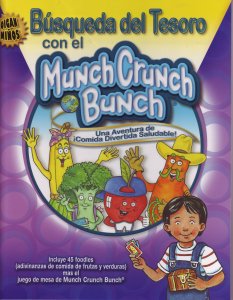 Búsqueda del Tesoro con el Munch Bunch Crunch book cover
Each child also took a book home to share with their family and to use on subsequent trips to the grocery store, utilizing the foodles (food riddle cards) to track down fresh fruit and veggies. Three weeks later, they responded to a second food questionnaire.
The results indicated intake of fresh fruits and vegetables had risen 24 percent and 14 percent respectively and intake of soda pop, fast food, and sweet snacks dropped significantly. Study results were independently reviewed by Ohio's Evaluation and Assessment Center for Mathematics & Science Education.
---
Find out what multicultural kids across America think
Listen to Michele Valdovinos, SVP, Phoenix Multicultural in
"Marketing to Multicultural Kids" audio recording

Michele Valdovinos gives a presentation and participates in an extended Q&A discussion about multicultural children based on a Phoenix Multicultural and Nickelodeon study of 1,300 multicultural children in 16 United States markets.
Find out about
• The Phoenix Multicultural Kids Study
• Relationship between children and their context
• Issues relating to family, technology and media, diversity, buying power, relationships in household, self perception, values, acculturation, cultural heritage, frequency of media activity, income and spending, brand preferences, the American Dream
• How many billions of dollars buying power multicultural kids children have
• Children's spending attitudes, habits by ethnicity
• How much money a year Hispanic kids have available to spend
• Types of products Hispanic kids buy
Click here for information on "Marketing to Multicultural Kids" audio recording
---
"As a mother, I understand the power of getting kids involved in making good food, fun. The Munch Crunch Bunch can help change picky eaters into curious, hearty, healthy eaters," said Hemmelgarn, who is a registered dietitian.
Jan Wolterman, coauthor, Treasure Hunt with the Munch Crunch Bunch
"Sad to say, things haven't improved much over the years. In fact, they have gotten much worse. So I resurrected my Soup to Nuts food characters, renamed them the Munch Crunch Bunch and put them back to work educating, entertaining, and empowering children to junk the junk food and eat healthy. It's a wonderful tool for parents and teachers to use with children ages 3 to 8," said Wolterman.
The authors believe there is definitely a need for health and nutrition education material for Hispanic families with children. A Children's Nutrition Research Center (CNRC) 2004 study at Baylor, Viva la Familia!, was designed to identify the reasons why so many Hispanic children develop serious weight problems.
---
Discover from a new mom market expert how to reach Latino moms by listening to
"Marketing to New Hispanic Moms – a case study" audio recording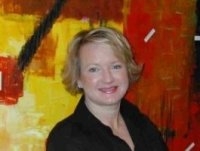 Presenter Cynthia Nelson, COO, Todobebe
Find out about
• New Latina mom market
• Baby demographics including market size, profile
• New moms' language preferences
• Latino baby market trends
• Factors influencing Hispanic baby market
• Location of new Hispanic moms' market
• Issues affecting new Latino moms
• Todobebe strategies
Click for information on "Marketing to New Hispanic Moms – a case study"
---
"Obese children are more likely to suffer from additional health problems like insulin-resistant diabetes, high blood pressure, and orthopedic disorders," said Nancy Butte, Ph.D., a Children's Nutrition Research Center energy expert and associate professor of pediatrics at Baylor College of Medicine.
Hemmelgarn, founder of Food Sleuth, LLC, collaborates with educators, health professionals, organizations, foundations, and Universities on projects to improve public health, especially those related to youth and media literacy. Her goal is to reconnect kids to Mother Earth by promoting gardening and to empower children to make healthy food choices via fun and innovative educational programs.
Wolterman is a nutrition and health advocate for children. A freelance creative writer, she created a Soup to Nuts Puppet Theatre over 25 years ago along with resource material to educate children about healthy eating.
---
Click here to buy Treasure Hunt with the Munch Crunch Bunch
---