Posted by Elena del Valle on August 11, 2008
Rayroq Acosta, chief executive officer and president, Wu-Tang Latino
Photo: Wu-Tang Latino
A podcast featuring an interview with Rayroq Acosta, chief executive officer and president, Wu-Tang Latino is available in the Podcast Section of Hispanic Marketing & Public Relations, HispanicMPR.com. During the podcast, he discusses urban Latino music with Elena del Valle, host of the HispanicMPR.com podcast.
Rayroq strives to innovate the ways Urban Latinos do business, promote and market their products. He co-launched and marketed Latinflava, a television show which evolved into a website. He also helped establish and build a non-traditional distribution and marketing system at United Box Office (UBO).
A native of the Dominican Republic, Rayroq arrived in Washington Heights, New York City with his family when he was three years old. It was in his neighborhood that he was introduced to hip hop, the music that would change his life. After graduating with a masters degree in design and marketing from the New York Institute of Technology (NYIT), Rayroq started working in the music and fashion industry.
---
Hispanic Marketing and Public Relations Understanding and Targeting America's Largest Minority book

"A must resource for practitioners/professionals expecting to reach US Hispanics; also valuable for college programs in marketing, public relations and communications. Highly recommended."
Choice magazine
Click here for information on the Hispanic Marketing & Public Relations books
---
Influenced by hip hop artists Run DMC, Kool Moe Dee and LL Cool J, Rayroq started a career in marketing and creative consulting. He co-owned Designey Inc., a design and marketing firm in New York City that provided logos, images and marketing for companies like Sony, Epic, Wu-tang, Rocawear, LL Cool J, Razorsharp Records, Wu-wear, Avirex, Disney, A&E, History Channel, Loud Records, SRC, Persaud Brothers, Sprite and Adidas.
As a result of the rapid growth of Latinflava, Rayroq was named senior vice president of Marketing and Latin Music at UBO; he also assisted in the building of the company's non-traditional distribution and Freedom Girls marketing system. Rayroq and a long-time friend, Rza, member of the original Wu-Tang Clan, created Wu-Tang Latino, a new record label they hope will become the Def Jam of Latin hip hip and Reggaeton.He has served as liaison between rival Latino and African-American gangs to lessen gang violence and crimes. He is co-founder of the United AIDS Foundation, a non-profit organization that raises money for AIDS research.
To listen to the interview, scroll down until you see "Podcast" on the right hand side, then select "HMPR Rayroq Acosta," click on the play button below or download the MP3 file to your iPod or MP3 player to listen on the go, in your car or at home. To download it, click on the arrow of the recording you wish to copy and save it to disk. The podcast will remain listed in the August 2008 section of the podcast archive.
---
Reach Hispanics online today with
"Marketing to Hispanics Online" audio recording
Identifying and characterizing the booming Hispanic online market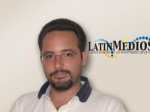 Joel Bary, Alex Carvallo and Matias Perel
Find out about
• The 16 million Latino online users
• Latino online users by gender
• What they do online
• Their language preferences
• How to reach Hispanic urban youth online
• What affects their online behavior
• What influences their purchases
Click here for information about "Marketing to Hispanics Online"
---