Posted by Elena del Valle on August 7, 2008
Pat Hensley and Jose Amaya accepted the award for Hy-Vee
Photos: Nielsen
Some 360 marketers from across the nation gathered in Miami, Florida last week to discuss the latest trends in the Hispanic retail industry. Nielsen Business Media, the conference organizer, took advantage of the gathering to recognize retailers. Six retailers in five categories received 2008 Hispanic Retail Excellence Awards: 7-Eleven, Jewel/Osco, Hy-Vee, Longs Drugs, Target, and Best Buy during the fourth annual Hispanic Retail 360 summit, held July 28-30 in Miami.
Conference representatives presented the Mass Retail award to Target Stores; the Grocery award to Jewel/Osco and Hy-Vee (tie); Convenience Stores to 7-Eleven; Drug Stores to Longs Drugs and Specialty Retail to Best Buy.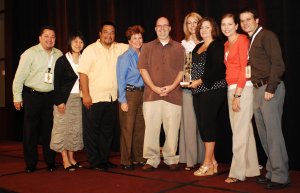 Representatives from Best Buy accept their award
The awards, based on a poll of more than 1,000 Hispanic-focused retailer and supplier executives, including members of conference's 22-company Retailer Advisory Board, are designed to recognize leadership among retailers targeting the growing Latino population.
Poll recipients were asked to write in the name of the retailer in each of six classifications (Drug Stores, Convenience Stores, Grocery, Mass Retail, Specialty Stores and Department Stores) that "has done the most in the past year to win the hearts, minds and spending dollars of Hispanic consumers." There were 100 responses to the poll and 12 companies received votes.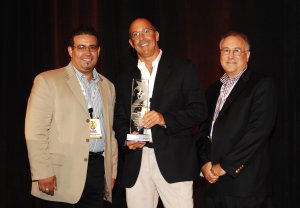 Roger Gonzalez of AARP, Mark Banister of Longs Drug, and Don Longo with Nielsen
The Advisory Board, representing retailers with more than 42,000 stores and more than $190 billion in annual revenue, also heavily influenced the content of the conference program. The board includes retailers from varied channels of retailing and food service such as ExxonMobil, Giant Eagle, McDonald's Corp., Minyards, SuperValu, and Winn-Dixie.
Last year's winner of the Hispanic Retail Excellence Award was Phoenix-based Bashas' Food City. The 2006 winner was Anaheim-based JAX Markets and the 2005 winner was Pros Ranch Market, which operates Hispanic market stores in southern California and four in Phoenix, Arizona. Hispanic Retail 360 is produced by Progressive Grocer and Convenience Store News, two media brands owned by Nielsen Business Media.
---
"Best in Class Hispanic Strategies" audio recording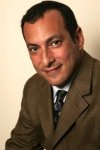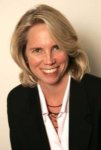 Presenters Carlos Santiago and Derene Allen
Find out what makes 25 percent of the top 500 Hispanic market advertisers out perform the remaining companies

Discover what questions to ask, steps to take to be a Best in Class company
Click here for more about "Best in Class Hispanic Strategies" audio recording
---