Posted by Elena del Valle on August 6, 2008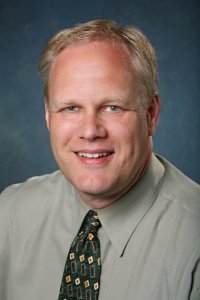 Greg Hammaren, senior vice president and general manager, FSN Detroit
Photos: FSN Detroit
For the first time Detroit station FSN Plus will air Spanish language coverage of a Tigers Oakland Athletics game in an effort to attract Spanish dominant viewers in the areas it serves. Broadcaster Clemson Smith Muñiz will provide a play-by-play commentary and Adrian Burgos, Jr., a Latino Baseball historian, will serve as analyst Saturday, August 9 for the Detroit Tigers annual ¡Fiesta Tigres! Night at Comerica Park. Scroll down to watch 15-second promo video in Spanish.
The Spanish-language presentation will be available to most cable and satellite households throughout the FSN Detroit regional footprint. The Spanish-language coverage is scheduled to begin at 7 pm with Smith Muñiz and Burgos, Jr. The English-language telecast of that night's Tigers-A's game with Mario Impemba and Rod Allen will air as usual on FSN Detroit and FSN HD. The one time effort will be promoted via FSN Detroit and local cable companies.
"This is the perfect opportunity for FSN Detroit and the ball club to reach out to an important segment of the Tigers fan base, while honoring the heritage of many fans' favorite players," said Greg Hammaren, senior vice president and general manager, FSN Detroit. "We are proud to provide this important piece of programming to our cable and satellite providers in conjunction with the ¡Fiesta Tigres! celebration that night at Comerica Park."
---
Target Latinos effectively by anticipating changes in the market with
"Hispanic Projections with 2007-08 update" audio recording

Presenter Roger Selbert, Ph.D.
Find out
About Latino buying power growth in the future
How Latino market growth compares with other markets in the U.S.
What drives the rise of Latino economic clout
Who should target the Latino market
What is the size of the Hispanic affluent market
If the luxury Latino market is growing
Stay ahead of your competition with "Hispanic Projections"
---
¡Fiesta Tigres! is the Tigers annual salute to the contributions of Hispanics and Latinos to the game of baseball. The team's 2008 roster includes Magglio Ordoñez, Carlos Guillen, Miguel Cabrera and Armando Galarraga (Venezuela); Placido Polanco, Fernando Rodney, Ramon Santiago, Freddy Dolsi, Aquilino Lopez and infield coach Rafael Belliard (Dominican Republic); Edgar Renteria (Colombia); and Joel Zumaya (Mexico).
"This is a historic telecast for the Tigers, and for our ¡Fiesta Tigres! celebration," said Duane McLean, senior vice president of Business Operations for the Tigers. "We're thrilled FSN Detroit is offering the game in Spanish-language, and joining us in honoring the contributions of Hispanic players past and present."
The latest census data shows 4 percent, approximately 390,000, of the population of Michigan is Hispanic. The largest Hispanic communities are Grand Rapids (13.1 percent or 25,000), Pontiac (12.8 percent or 8,590), Saginaw (11.7 percent or 6,730); Detroit (5 percent or 43,500).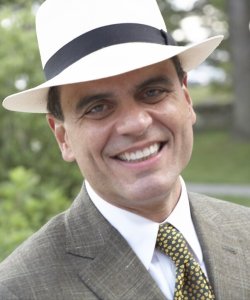 Broadcaster Clemson Smith Muñiz
Smith Muñiz, a native of Puerto Rico, has an extensive Spanish-language broadcasting resume, including TV play-by-play and pre- and post-game hosting for the New York Mets, Yankees and MLB International. The longtime Spanish play-by-play voice for the New York Knicks, Smith Muñiz also serves in that capacity for the New York Jets, Monday Night Football for Univision Radio, as well as Army football.
He has also worked as commentator for Super Bowl XLI and XLII, as the English and Spanish-language sideline reporter for Westwood One during the broadcast of the first NFL regular-season game in Mexico City in 2005, and as commentator during the 1997 and 1998 NBA Playoffs. A former sportswriter for the Hartford Courant, the New York Daily News and Spain's El País, Smith Muñiz started his Spanish-language broadcast career in 1991 with ESPN International calling Australian Rules Football before graduating to major events such as the NBA Finals, Stanley Cup Finals and World Series. He is president of Smith Muñiz Productions, a New York-based company that helps clients target the Hispanic market.
Burgos, an educator and author, is an associate history professor at the University of Illinois specializing in U.S. Latino history, African-American studies, sport history and urban history. In 2007, Burgos published Playing America's Game(s): Baseball, Latinos and the Color Line, a book that examines the impact Latino players had on U.S. professional baseball and on baseball's color line and racial understandings.
Adrian Burgos, Jr., a Latino Baseball Historian
Burgos, who earned his doctorate from the University of Michigan, also was a contributing author to the 2006 book Shades of Glory: The Negro Leagues and the Story of African American Baseball. He served on the screening and voting committees for the National Baseball Hall of Fame's 2006 special election on the Negro Leagues, and consulted on the Hall's ¡Béisbol- Baseball!: The Shared Pastime project.
According to promotional materials FSN Detroit and FSN Plus coverage of the Tigers is available in 3.2 million cable and satellite households throughout Michigan and portions of Northwest Ohio and Northern Indiana.
---
Make your ads resonate with Hispanics
Listen to C&R's Research Director Liria Barbosa in
"Hispanics' Perspective on Advertising" audio recording

Liria Barbosa gives a presentation and participates in an extended Q&A discussion about
• Type of ads Latinos prefer
• Latino top media choices
• Percent of Latinos who tried products because of ads
• Percent of Latinos who purchased products because of ads
• What makes an ad "Hispanic"
• If ad language is important for bicultural Latinos
• What to keep in mind when targeting bicultural Latinos with ads
Click here for information on Hispanic Perspectives on Advertising
---