Posted by Elena del Valle on July 31, 2008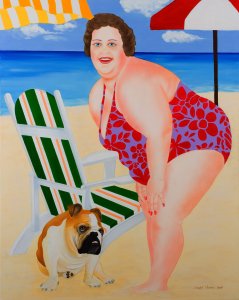 Soulmates by Suzan Wolters
Art: Soulmates by Suzan Wolters
In spite of the social stigma associated with being overweight one quarter of the adult population in the United States is obese as defined by Center for Disease Control and Prevention (CDC) standards of weight. To address the issue of obesity several years ago the leadership of that organization set a goal to reduce the number of obese people to 15 percent of the adult population by 2010. That may be a lofty goal since not a single state has reached it.
Obesity exceeds 30 percent in three states, Alabama, Mississippi and Tennessee; and one quarter of states have 25 percent obesity levels. The state with the lowest obesity is Colorado and 19 percent of adults in that state are obese.
To find out the state of obesity in the country the CDC analyzed the results of a national telephone survey, the 2007 Behavioral Risk Factor Surveillance System (BRFSS), a random-digit–dialed telephone survey of the country's civilian population 18 years of age and older by state. Among ethnic minorities 36 percent of blacks and 28.5 percent of Hispanics were obese.
College graduates, men and women, were the least likely to be obese. Men who responded to the survey and had graduated from college reported 22 percent obesity; women respondents who had graduated from college reported 17.9 percent obesity.
From a geographic perspective, residents of Southern states were most likely to be obese, 27 percent; while the Midwest region showed 26.5 percent; the Northeast region had 24.4 percent; and the West had 23.1 percent.
The CDC determines obesity using height and weigh to establish a person's body mass index. For example, a 5 foot 9 inch adult with a weight of 203 pounds has a body mass index of 30 and is considered obese.
The mission of the CDC is "to promote health and quality of life by preventing and controlling disease, injury, and disability."
---
"Happy for No Reason" audio recording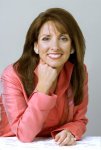 Presenter Marci Shimoff, author, Happy for No Reason
What: An audio presentation by Marci Shimoff and Q&A with Marci Shimoff and HispanicMPR.com audio program host Elena del Valle about finding happiness.
Available exclusively on HispanicMPR.com!
What you receive: Downloadable recording of a 39-minute audio presentation "Happy for No Reason" and a bonus 50-minute interview of Marci Shimoff.
Ready to buy? Select a format to add to your shopping cart:
Downloadable MP3 of Happy for No Reason $119.95
Audio CDs of Happy for No Reason $139.95
More information on "Happy for No Reason" audio recording with Marci Shimoff
---