Posted by Elena del Valle on July 30, 2008
Bertrum and Raimundo
Photos, video: Giddy Gander Company
In an effort to support bilingual (Spanish-English) fluency in the United States beginning with children and children's television, the Giddy Gander Company launched a cartoon series and brand called The Wumblers in early 2007. Success soon followed. So much so that beginning July 2008, the bilingual branded program is airing on Spanish language television. Scroll down to watch a promo video about The Wumblers.
Also, The Wumblers products will be sold at Walmart through a joint promotion, between The Wumblers, the National Watermelon Association, and Walmart. The promotion was due to begin this July in one of the retail merchant's Texas stores.
The Wumblers main characters are Bertrum, a young Wumbler, and Raimundo, a bilingual Latin American snail, who are best friends. Bertrum was created to reflect the cultural issues of the toddler children who watch the series. Raimundo is Bertrum's conscience, mentor, and best friend, even if he is a Spanish speaking snail.
Bertrum's other imaginary friends show up to advise and tempt him at important moments. He has two loving parents, one of which runs an ice cream shop; and an "eccentric aunt" who likes to paint and sing.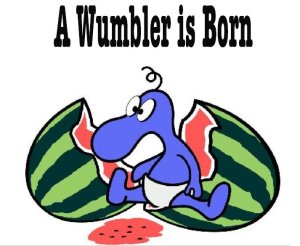 A Wumbler is Born
"The idea is to help Spanish speaking children in the United States achieve English fluency in a new and innovative way while remaining consistent with the values that remain key to the strong family ties and cultural origins of this flourishing community that offers so much to our U.S. society," said Laura J. Wellington, creator of The Wumblers.
I really believe that it's time for someone to look up and give Hispanic-Latino children the recognition and heroes they deserve within mainstream U.S. television (and subsequent platforms) with a thrust that warrants the continued emergence and positive contributions made by the Hispanic-Latino people to U.S. (and global) society."
The Wumblers began as a cartoon series on television nine months ago. The success of the concept is reflected in the recent promotion with Walmart and the National Watermelon Association as well as the production of DVDs that became available for retail purchase this month.
The Wumblers, multi-colored, bulbous-shaped characters, are born from watermelons and eat food that falls from the sky. They are the creation of Wellington, a preschool teacher, mother of four, and widow. In 2006, she co-founded the Giddy Gander Company LLC to respond to requests for The Wumblers.
---
---
Find out what multicultural kids across America think
Listen to Michele Valdovinos, SVP, Phoenix Multicultural in
"Marketing to Multicultural Kids" audio recording

Michele Valdovinos gives a presentation and participates in an extended Q&A discussion about multicultural children based on a Phoenix Multicultural and Nickelodeon study of 1,300 multicultural children in 16 United States markets.
Find out about
• The Phoenix Multicultural Kids Study
• Relationship between children and their context
• Issues relating to family, technology and media, diversity, buying power, relationships in household, self perception, values, acculturation, cultural heritage, frequency of media activity, income and spending, brand preferences, the American Dream
• How many billions of dollars buying power multicultural kids children have
• Children's spending attitudes, habits by ethnicity
• How much money a year Hispanic kids have available to spend
• Types of products Hispanic kids buy
Click here for information on "Marketing to Multicultural Kids" audio recording
---