Posted by Elena del Valle on July 25, 2008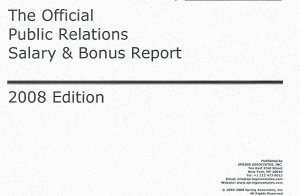 The 2008 Official Public Relations Salary & Bonus Report
Public relations and human resources executives are the target audience for The Official Public Relations Salary & Bonus Report 2008 Edition, a 13-page spiral bound summary of public relations salaries and bonuses across the country. The report, published since 1996 by New York City based Spring Associates, Inc., sells for $399.
The report is compiled and analyzed from the Spring Associates private database of 20,000 credentialed individuals who work in public relations. According to promotional materials, random survey methods of data gathering are not used. Representatives from the company collate the data on a daily basis during direct communications with public relations executives.
The 2008 report indicates average corporate communications base salaries went up 3.8 percent and public relations agency salaries increased 3.9 percent. The report outlines eight cities with the greatest number of public relations practitioners: New York, Atlanta, Chicago, Los Angeles, Boston, Dallas, Washington, D.C., and San Francisco. Salaries in these cities combined increased 4.2 percent for agencies and 4 percent for corporate communications departments.
Over the past years, Spring Associates analysts have concluded that once salaries and other benefits are taken into account public relations practitioners in corporate America are better compensated than their agency counterparts.
Spring Associates is a 28 year old executive search company founded by Dennis Spring. Its staff assist companies seeking to hire professionals in public affairs, consumer marketing, investor relations, corporate communications, marketing communications, speech writing, employee communications, financial communications, media relations, medical/health care, and hi-tech (dot com, e-commerce, e-retail).
---
"Happy for No Reason" audio recording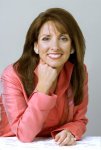 Presenter Marci Shimoff, author, Happy for No Reason 7 Steps to Being Happy from the Inside Out (Free Press, $24.95) and president Esteem Group
What: An audio presentation by Marci Shimoff and Q&A with Marci Shimoff and HispanicMPR.com audio program host Elena del Valle about using your energy to attract clients and customers.
"Happy for No Reason" audio recording consists of 89 minutes of useful insights and information by the internationally famous author and speaker.
Available exclusively on HispanicMPR.com! For your convenience you may also purchase these materials on audio CD's.
What you receive: Downloadable recording of a 39-minute audio presentation "Happy for No Reason" and a bonus 50-minute interview of Marci Shimoff.
Ready to buy? Select a format to add to your shopping cart:
Downloadable MP3 of Happy for No Reason $119.95
Audio CDs of Happy for No Reason $139.95
More information on "Happy for No Reason" audio recording with Marci Shimoff
---