Posted by Elena del Valle on July 24, 2008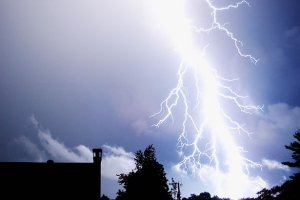 Photo: PublicDomainPictures.net/Mark Coldren
According to a recently released report from the Tomás Rivera Policy Institute (TRPI) and the Asian Pacific American Legal Center (APALC), people with limited English abilities and immigrants are less prepared for disasters than other segments of the population. These group are sometimes excluded from educational efforts and emergency response plans.
To prepare the report, "Disaster Preparedness in Urban Immigrant Communities: Lessons Learned from Recent Catastrophic Events and Their Relevance to Latino and Asian Communities in Southern California," the researchers observed Latino and Asian immigrant communities in Southern California for disaster education and response preparation plans. The long term goal of the study is to improve disaster awareness among immigrant community members, and assist emergency personnel to improve the service they provide to limited English speaking populations.
The researchers found: it was difficult to locate disaster preparedness materials in languages other than English; insufficient bilingual staff and volunteers among emergency response personnel and organizations who provide assistance during emergencies; although there are plenty of ethnic media outlets that could facilitate emergency preparedness and educational efforts, they are not being used widely; and there is concern that immigrants may refrain from requesting assistance in an emergency for fear of revealing their illegal immigration status.
The researchers recommend in the report that federal and state governments establish basic secondary language resources; and that local agencies create informational materials and response plans to meet the language needs of the communities they serve.
The Tomás Rivera Policy Institute is one of the premier policy institutes that seeks to advance insightful thinking on key issues affecting Latino communities. The Institute is an independent, nonprofit organization that is an affiliated research unit of the School of Policy, Planning, and Development at the University of Southern California.
Founded in 1983, the Asian Pacific American Legal Center is a nonprofit organization dedicated to advocating for civil rights, providing legal services and education, and building coalitions to positively influence and impact Asian Pacific Americans and to create a more equitable and harmonious society. APALC is affiliated with the Asian American Justice Center (formerly NAPALC) in Washington, D.C.
---
Target Latinos effectively by anticipating changes in the market with
"Hispanic Projections with 2007-08 update" audio recording

Presenter Roger Selbert, Ph.D.
Find out
About Latino buying power growth in the future
How Latino market growth compares with other markets in the U.S.
What drives the rise of Latino economic clout
Who should target the Latino market
What is the size of the Hispanic affluent market
If the luxury Latino market is growing
Stay ahead of your competition with "Hispanic Projections"
---