Posted by Elena del Valle on July 22, 2008
Information provided by our Event Partner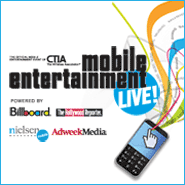 September 9, 2008
Moscone West
San Francisco, CA
Exploring New Technologies, New Products and New Business Models!
Mobile Entertainment Live!, powered by Billboard, The Hollywood Reporter, Nielsen Mobile and AdweekMedia, will offer a new event format this fall that is designed to deconstruct the typical conference experience and give a greater voice to all attendees.
New technologies, new products and new business models will be the topics of the day, so Mobile Entertainment Live! regulars and newcomers alike are sure to find something innovative and exciting at this event!
This one-day conference will feature main-stage keynote interviews with industry experts as well as a full afternoon program dedicated to in-depth tracks on each of the major content areas. Each track will include a series of product demonstrations, presentations, interviews, feedback sessions and structured networking opportunities. The program will be staggered in such a way that attendees can take advantage of multiple tracks.
Music
Deep-dive sessions on the future of music content on mobile phones including ringtones, ringback tones, full-song downloads, sideloading, bundling, artist participation, promotional opportunities and mobile ticketing.
Video
Focused sessions on all mobile video-related content including on-demand video, streaming TV, original content vs. repurposed content, film, TV, animation and news.
Advertising
An examination of the various ways that mobile entertainment is drawing advertisers to mobile content through consumer acceptance, subsidized content, marketing programs as content services and more.
Community
A look into the highly anticipated world of mobile social networking and user-generated content including strategies/technologies for mobilizing social networks, content recommendation/sharing/gifting, mobile-only social networks, monetizing user-generated content, participation TV/events and blogging.
Contact Brittany.davies@nielsen.com for a Special Hispanic MPR Discounted Rate.