Posted by Elena del Valle on July 21, 2008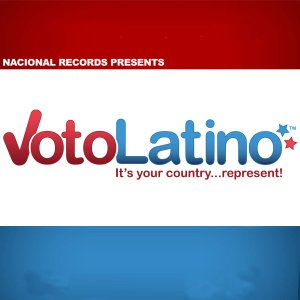 Voto Latino benefit album cover
Photos: Nacional Records
In an effort to inspire Latinos to vote National Records collected a previously unreleased track by Pitbull and Kurse and 14 songs by Don Omar, Aterciopelados, Aventura, David Garza and Ozomatli into Voto Latino, a benefit album. Proceeds of the album will benefit Voto Latino, a non partisan organization. Scroll down to listen to Across the Waters by Pitbull and Kurse from the Voto Latino benefit album.
The 15-track Voto Latino album was released on iTunes earlier this year and has been selling steadily for $3.99. In the previously unreleased track Across The Waters Miami-based hip-hop artist Pitbull and Kurse sing about the plight of Cuban immigrants.
"To me it's great to have a record like Across the Waters involved with Voto Latino iTunes because it represents everything we stand for, which is the struggle for freedom and opportunity," said Pitbull.
"Music is the soundtrack to my life. The Voto Latino compilation is the soundtrack of a movement," said Rosario Dawson, co-founder, Voto Latino, who recently starred in a telenovela parody public service announcement with Wilmer Valderrama.
Aterciopelados
"It encapsulates everything about the Latino drive to the polls so blast it on your way to change," said Valderrama. "Music has proven to be an influential platform for our generation. This is the time to use it."
---
Find out what multicultural kids across America think
Listen to Michele Valdovinos, SVP, Phoenix Multicultural in
"Marketing to Multicultural Kids" audio recording

Michele Valdovinos gives a presentation and participates in an extended Q&A discussion about multicultural children based on a Phoenix Multicultural and Nickelodeon study of 1,300 multicultural children in 16 United States markets.
Find out about
• The Phoenix Multicultural Kids Study
• Relationship between children and their context
• Issues relating to family, technology and media, diversity, buying power, relationships in household, self perception, values, acculturation, cultural heritage, frequency of media activity, income and spending, brand preferences, the American Dream
• How many billions of dollars buying power multicultural kids children have
• Children's spending attitudes, habits by ethnicity
• How much money a year Hispanic kids have available to spend
• Types of products Hispanic kids buy
Click here for information on "Marketing to Multicultural Kids" audio recording
---
The album artists and titles are: Notch, Aquí Me Quedo; Pitbull & Kurse, Across The Waters; Ozomatli, (Who Discovered) America?; Don Omar, Angelito; Los Amigos Invisibles, All Day Today; Salvador Santana Band, My One True Love; Ceu, Roda (Bombay Dub Orchestra's Grateful Dub Mix); Aterciopelados, Cancion Protesta; Aventura, Mi Corazoncito; Chingo Bling, They Can't Deport Us All; Ceci Bastida – Empieza A Amanecer; David Garza, There Go The Weirdos; Volumen Cero, El Mar; B-Side Players, Nuestras Demandas; Hip Hop Hoodíos, Viva La Guantanamera.
According to promotional materials, Nacional Records and iTunes are donating their proceeds from the benefit album. All proceeds will benefit Voto Latino's voter registration, education and empowerment initiatives.
Founded in 2004, Voto Latino is a non-partisan organization that works to promote an enfranchised America by leveraging celebrity voices, the latest technology and youth themselves to promote positive change and voter empowerment throughout the Latino community. Voto Latino is targeting seven million American Latino voters aged 18-29, 18 percent of the youth vote, in preparation for the 2008 general elections.
Click on the play button to listen to Across the Waters by Pitbull and Kurse from the Voto Latino benefit album
---