Posted by Elena del Valle on July 18, 2008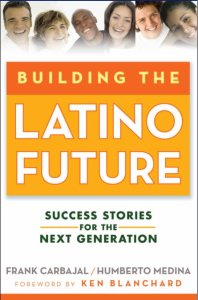 Building the Latino Future book cover
Photo: John Wiley & Sons, Inc.
Santa Clara resident Frank Carbajal, a life and business coach, and Humberto Medina, a speaker and consultant, teamed up to showcase the success stories of 49 Latinos in various professions and walks of life in the newly published book Building the Latino Future Success Stories for the Next Generation (Wiley, $24.95). The book is made up of brief summary biographies and a word of advice from each of the 49 individuals.
In addition to descriptions of the Latinos they chose to profile, the authors set out to provide readers with a framework they might rely on for their own future. The stories of the individuals they chose are designed to highlight their humble beginnings and rise to prominence in their field.
---
How to Use Your Energy to Attract Clients and Customers" audio recording
Presenter Heather Dominick, owner, EnergyRich Coaching, Inc.
A 106-minute audio recording including a presentation by Heather and the complete interview with Heather where she discusses:
Heather's step by step system for women entrepreneurs
Her coaching philosophy that an individual needs to be business at a holistic level
Core beliefs about creating magnificent marketing for your business
How Heather transitioned from a high school drama teacher to a coach
The three Os that characterized her life at the time
Heather's first steps to changing her life
Click here for information on How to Use Your Energy to Attract Clients and Customers
Not sure? Click here to listen to a short interview with Heather
Ready to buy? Select a format to add to your shopping cart:
Downloadable " How to Use Your Energy to Attract Clients and Customers " MP3 $119.95
Audio CD's "How to Use Your Energy to Attract Clients and Customers " $139.95
---
The 159-page hardcover book is divided into 49 chapters, one for each person profiled. The chapters are grouped in six sections: Focus, Unity, Tenacity, Unique Ability, Resiliency, and Education and a two-page Conclusion.
Included are 34 men and 15 women in academia, sports, business, entertainment, and politics from government as well as the private and private sectors such as: Aida Alvarez, former administrator, U.S. Small Business Administration; Raul Yzaguirre, former president, National Council of La Raza; Jeff Garcia, quarterback, National Football League; Elva Diaz, assistant professor, University of California at Davis; Douglas Patino, philanthropist; and Dick Gonzalez, former senior vice president, Human Resources, Safeway, Inc.
Carbajal is president of Es Tiempo, a coaching firm for small business owners and entrepreneurs. Medina is a speaker, director and consultant for The Ken Blanchard Companies.
---
Click here to buy Building the Latino Future
---