Posted by Elena del Valle on July 14, 2008
Marci Shimoff, author, Happy for No Reason
A podcast interview with Marci Shimoff, author, Happy for No Reason 7 Steps to Being Happy from the Inside Out (Free Press, $24.95), is available in the Podcast Section of Hispanic Marketing & Public Relations, HispanicMPR.com. During the podcast, Marci discusses her book and how to find happiness for no reason with Elena del Valle, host of the HispanicMPR.com podcast.
Marci is also author of the self-help book Chicken Soup for the Soul. Her six bestselling titles in the series, including Chicken Soup for the Woman's Soul and Chicken Soup for the Mother's Soul, have met with stunning success, selling more than 13 million copies worldwide in 33 languages and have been on The New York Times bestseller list for 108 weeks.
Marci is a featured teacher in the international film and book The Secret. Her new book, Happy for No Reason was published January 2008 and offers an approach to experiencing deep and lasting happiness.
---
Click here to buy Happy for No Reason
---
Marci has inspired many people around the world, sharing her methods for personal fulfillment and professional success. As president and co-founder of the Esteem Group she delivers keynote addresses and seminars on self-esteem, self-empowerment, and peak performance to corporations, professional and non-profit organizations, and women's associations. She has been a trainer for Fortune 500 companies, including AT&T, General Motors, Sears, Kaiser Permanente, and Bristol-Myers Squibb.
Marci earned her MBA from University of California, Los Angeles (UCLA) and holds an advanced certificate as a stress management consultant. She is a founding member and on the board of directors of the Transformational Leadership Council, a group of 100 top leaders serving over ten million people in the self-development market.
To listen to the interview, scroll down until you see "Podcast" on the right hand side, then select "HMPR Marci Shimoff," click on the play button below or download the MP3 file to your iPod or MP3 player to listen on the go, in your car or at home. To download it, click on the arrow of the recording you wish to copy and save it to disk. The podcast will remain listed in the July 2008 section of the podcast archive.
---
"Happy for No Reason" audio recording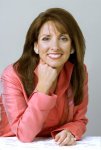 Presenter Marci Shimoff, author, Happy for No Reason 7 Steps to Being Happy from the Inside Out (Free Press, $24.95) and president Esteem Group
What: An audio presentation by Marci Shimoff and Q&A with Marci Shimoff and HispanicMPR.com audio program host Elena del Valle about finding happiness.
"Happy for No Reason" audio recording consists of 89 minutes of useful insights and information by the internationally famous author and speaker.
Available exclusively on HispanicMPR.com!
What you receive: Downloadable recording of a 39-minute audio presentation "Happy for No Reason" and a bonus 50-minute interview of Marci Shimoff.
Ready to buy? Select a format to add to your shopping cart:
Downloadable MP3 of Happy for No Reason $119.95
Audio CDs of Happy for No Reason $139.95
More information on "Happy for No Reason" audio recording with Marci Shimoff
---