Posted by Elena del Valle on July 9, 2008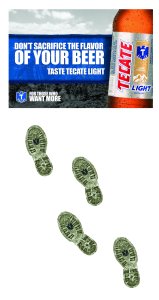 Tecate Light store floor ad
Photo, video: Tecate Light
Mexican beer maker Fomento Economico Mexicano, S.A. de C.V. (FEMSA) and Heineken USA, importers of Tecate Light, hope to attract acculturated Mexicans and Mexican-American adults in the United States with a newly released two-language multimedia ad campaign. The brand's first dual-language ad campaign was launched June 30, 2008 in general market and Spanish language media outlets and will run through the end of 2008. Scroll down to watch a Tecate Light video ad.
The ad makes up two distinct executions under the same tag line, "Para los que quieren más," Spanish for "For those who want more." The English-language ads invite Mexican-American men to "break the habit" of drinking less-flavorful light beers in favor of Tecate Light.
To achieve this, two separate 30-second TV spots present men acting out their favorite guilty pleasures, such as watching telenovelas (Spanish language soap operas) and talking loudly on their cell phone, while drinking a generic light beer. In each spot, Marco Uriel, a Mexican actor chastises men for their bad beer drinking habits and invites them to try Tecate Light beer.
---
Make your ads resonate with Hispanics
Listen to C&R's Research Director Liria Barbosa in
"Hispanics' Perspective on Advertising" audio recording

Liria Barbosa gives a presentation and participates in an extended Q&A discussion about
• Type of ads Latinos prefer
• Latino top media choices
• Percent of Latinos who tried products because of ads
• Percent of Latinos who purchased products because of ads
• What makes an ad "Hispanic"
• If ad language is important for bicultural Latinos
• What to keep in mind when targeting bicultural Latinos with ads
Click here for information on Hispanic Perspectives on Advertising
---
The Spanish-language Tecate Light campaign plays off the concept that Mexican men in the United States shouldn't have to settle for a less flavorful beer than what they're used to. The "Papás" 30 second TV spot features distraught Mexican parents who share a testimonial to their adult son in the United States and their disappointment in his choice of light, flavorless beers.
"As the most popular light cerveza in Mexico, we believe it's important to converse with our consumers in the language that they feel most comfortable. With the continued growth of the U.S. Hispanic population, and especially the second and third generation Mexican-Americans populations, we wanted to create a campaign that addresses their intrinsic yearning for more flavor in their beer," said Carlos Boughton, brand director for Tecate and Tecate Light.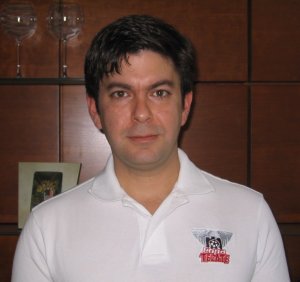 Carlos Boughton, brand director, Tecate and Tecate Light
The spots in Spanish will air in Tucson, Albuquerque and San Antonio while the two 30-second TV spots in English will air on ABC, CBS, FOX and NBC; as well as several cable channels including ESPN, History Channel, and Discovery Channel. Additionally, the Spanish-language counterpart ads will be seen on Univision, Telemundo and Telefutura throughout the 20 markets where Tecate Light is available. Print ads will run in the July issue of Maxim en Español. There will also be radio, out-of-home and point of sale components to the campaign.
The campaign work is divided between three agencies: the creative concept was developed by Adrenalina; MediaVest New York will place the ads; and Formula PR will handle public relations efforts to support the campaign.
"According to Census figures, the largest growth segment of the Hispanic population is not immigrants, but the children of immigrants who tend to be different beyond simply the language they speak," said Manuel Wernicky, founder and principal of Adrenalina. "This is an innovative campaign because we recognized that there are two different types of consumers of Mexican descent, which is why we created two unique campaigns under one brand platform instead of simply translating the same work in English and Spanish. This is not a one-size-fits-all campaign."
---
"Best in Class Hispanic Strategies" audio recording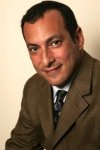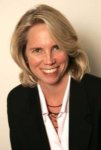 Presenters Carlos Santiago and Derene Allen
Find out what makes 25 percent of the top 500 Hispanic market advertisers out perform the remaining companies

Discover what questions to ask, steps to take to be a Best in Class company
Click here for more about "Best in Class Hispanic Strategies" audio recording
---
Since 2004, as part of an agreement with FEMSA Cerveza, Heineken USA is the exclusive importer, marketer and seller of FEMSA's beer brands in the United States. Heineken USA handles the marketing, sales and distribution of Dos Equis, Tecate, Sol, Carta Blanca, Bohemia and the new Tecate Light.
Headquartered in White Plains, New York, Heineken USA Inc. is a beer importer and a subsidiary of Heineken International B.V., a Netherlands company. Heineken USA also imports Heineken Lager, Heineken Premium Light, Heineken Dark Lager, Amstel Light, and Buckler non-alcoholic brew.
Founded in 1890, FEMSA is one of the largest integrated beverage companies in Latin America. Its subsidiary FEMSA Cerveza is one of the leading brewers in Mexico with brands that include Tecate, Dos Equis and Sol.
---
---